Grant Will Support Kidney Disease Research
Stuart Dryer, a professor of biology and biochemistry in the College of Natural Sciences and Mathematics, was awarded a $1.3 million dollar grant from the National Institutes of Health. This grant, which will run for four years, supports his research aimed at identifying possible therapeutic targets for kidney disease.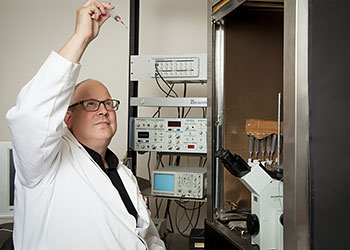 Stuart Dryer was awarded a 4-year, $1.3 million grant from NIH to support his research.Dryer studies the role of the TRPC6 ion channel in regulating kidney function. Mutations that cause TRPC6 to become more active result in a disease called focal and segmental glomerulosclerosis (FSGS), in which the kidney develops scar tissue that inhibits proper function.
This NIH grant will support Dryer's ongoing research aimed at understanding TRPC6's role in kidney function, as well as continue his efforts to determine if inhibiting TRPC6 function could be a potential therapy for several forms of FSGS and closely related kidney disorders.