Lecturers Represent Geology's All Stars
Julia Wellner, assistant professor in the Department of Earth and Atmospheric Sciences at the University of Houston, was named a 2016 American Association of Petroleum Geologists (AAPG) Distinguished Lecturer.

She is one of 10 people selected for the honor.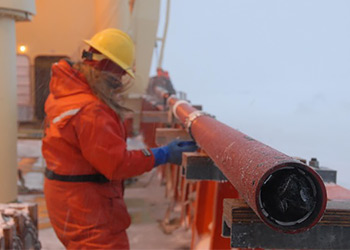 Wellner works to bring a sediment core onto the deck of the icebreaker; Weddell Sea, Antarctica.The AAPG-AAPG Foundation Distinguished Lecture Program is the organization's flagship initiative for sharing the latest in scientific thought, concepts and advances. The program offers outstanding lectures by speakers who are respected scientific leaders in their disciplines of petroleum geology. The lectures, which are hosted by more than 500 AAPG-affiliated geological societies or university departments around the world, are open to all.
"I am honored to have this opportunity. It allows me to visit schools around the country and interact with faculty and students working on a range of projects," said Wellner, who joined the College of Natural Sciences and Mathematics faculty in 2006. "This program will not only give me a chance to show the research we are doing at UH, but it will also allow me to meet students looking for their next academic program."
Lecturers are selected through a two-step nomination process; there is no application. The speakers are selected by the Distinguished Lecture Committee composed of past distinguished lecturers and other experts. The committee compiles a list of potential speakers and holds a vote; committee membership is never made public.
Wellner's Lecture Topics
"Antarctica's Sedimentary Archives of Past Glacial History: Tools for Understanding Climate Change"
"Antarctic Geologic Drilling Programs: Field Work in Extreme Environments and Preparing for the Next Drill Site"
"Marine Geological Record of Ice Retreat in the Antarctic Peninsula since the Last Glacial Maximum"
Wellner and her students study the sediment deposited underneath and adjacent to ice sheets in the Antarctic, looking at the characteristics of the sediments as a way to determine ice behavior. She also works on sediments in Galveston Bay and the Gulf of Mexico.
"My studies about glacial history and how ice sheets respond to a changing climate provide information about Earth's climate history, which is of interest to AAPG members involved in producing petroleum," she said. "Our department also has an expanding program for surveying in shallow water, and I am excited to share a bit of information about our new survey capabilities."
For her lecture, Wellner developed three presentations: one for general audiences that covers climate change, one about technology, and another about sedimentary transport and glacial systems.
The technology topic is of interest in petroleum exploration because Wellner works in high latitudes, and while she doesn't drill for oil, some of the techniques are analogous to what could be used as the Arctic opens up for exploration.
"While my emphasis is climate history, my students and I use the same tools, methods and proxies as geologists looking for oil," Wellner said. "This training prepares my students for future careers in the oil industry. They have the right skillset for petroleum exploration as well as an appreciation for climate dynamics."
Wellner will be giving her lectures across the nation, Jan. 25-Feb. 5 and March 7-18.
- Kathy Major, College of Natural Sciences and Mathematics