UH Moment Produced by Houston Public Media Airing on KUHF Radio
Frank McKeon, University of Houston professor of biology and biochemistry, is widely regarded as a pioneer in cell biology. He directs the UH Somatic Stem Cell Center and is interested in innovative approaches to impact the growth of cancers and diseases that lead to transplants.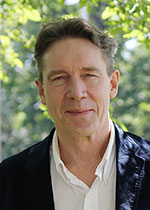 Listen to Frank McKeon's Interview"An area of particular interest in the laboratory is looking at precursors of major lethal cancers," he said. "The reason for going after precursors is that they typically exist up to 20 years before metastatic cancers arise."
That means there is an opportunity to get a 20 year jump on cancer –stop it in its tracks by determining which cells will mutate. McKeon and his research colleagues have examined precursor lesions—the visitors before cancer—of Barret's esophagus that lead to esophagus cancer and found that this takes place with other cancers, such as ovarian, gastric and pancreatic.
"We want to be able to demonstrate that we can pull these cancers apart, identify the small number of stem cells that are resistant to chemotherapy and work together with our drug discovery colleagues to find out ways of killing them," McKeon said. "In the whole realm of preventive medicine, we have to go after precursors. We can't be sitting around waiting until it gets to be a crisis."
He is supported by a $6 million grant from the Cancer Prevention Research Institute of Texas. After 25 years at Harvard, McKeon aims to work with researchers in the Texas Medical Center and at UH, particularly teams from chemistry, nanotechnology or chemical engineering.
"This is where this work will go," he said. "Success for us is being able to fully describe this general notion of precursor lesions as an entity that is addressable in this preventive effort toward cancer and this is opening a whole realm that hasn't been addressed in cancer."
Frank McKeon is part of what's happening at the University of Houston.
- Marisa Ramirez, University Media Relations