Four Students Take Home Awards
Twenty-four College of Natural Sciences and Mathematics graduate students participated in the University of Houston's Second Annual Graduate Research and Scholarship Projects (GRaSP) Day.
The day showcased the rich array of graduate research-related activities across all disciplines and was designed to serve as a vehicle for getting the graduate students' research to a wider audience. The event provided networking opportunities and celebrated the research, scholarship and creative endeavors of UH graduate students from all colleges.
NSM students participated in three areas: research poster presentations, GRaSP talks on research (5-10 minute TED-like talks), and a publication competition. Each entry was reviewed by a panel of invited judges.
Entries for the best scholarly publication by a graduate student included books, articles in journals, or conference proceedings, provided that the student was the first author (or joint first author) and the publication was published in 2014 or 2015.
NSM Students Recognized at GRaSP Event
Scholarly Publications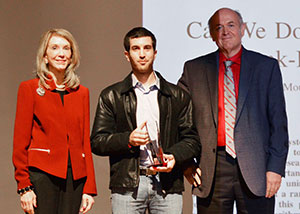 Panagiotis Moutafis (center) with Provost Paula Short and Graduate School Dean Dmitri Litvinov.First Place
Panagiotis Moutafis, Ph.D. Student, Computer Science
Article Title: "Can We Do Better in Unimodal Biometric Systems? A Rank-based Score Normalization Framework"
Published in IEEE Transactions on Cybernetics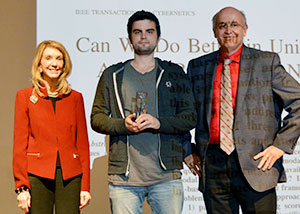 Maxim Paci (center) with Provost Paula Short and Graduate School Dean Dmitri Litvinov.Runner-Up
Maxim Paci, Ph.D. Student, Chemistry
Article Title: "Major Centers of Motion in the Large Ribosomal RNAs"
Published in Nucleic Acids Research
Honorable Mention
Hila Roshanravan, Ph.D., Cell and Molecular Biology
Article Title: "ATP Acting Through P2Y Receptors Causes Activation of Podocyte TRPC6 channels: Role for Podocin and Reactive Oxygen Species"
Published in American Journal of Physiology - Renal Physiology
GrASP Talk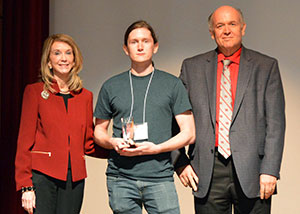 Smon Stolarczyk (center) with Provost Paula Short and Graduate School Dean Dmitri Litvinov.Runner-Up
Simon Stolarczyk, Ph.D. Student, Mathematics
Topic: "Abstract Jellybean Networks"
- Kathy Major, College of Natural Sciences and Mathematics