Five Receive Outstanding Poster Awards
Fifty College of Natural Sciences and Mathematics majors presented the results of their research projects at UH's 11th Annual Undergraduate Research Day on October 22. In all, 175 UH students participated.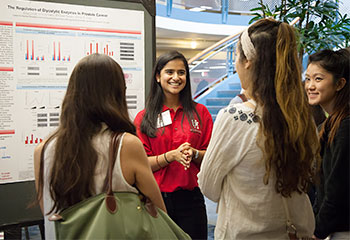 Experience in undergraduate research helps students decide whether to pursue a graduate degree and can increase the competitiveness of their graduate/professional school applications. The event included poster and oral presentations of research completed either with UH mentors or mentors at other institutions.
NSM faculty members are actively involved in mentoring students in their labs. This year, 30 faculty members had anywhere from one to five students participating in Undergraduate Research Day.
Research Experience Enhances Classroom Learning
"One of the biggest benefits of undergraduate research is that we get hands-on application of everything that we've learned in our science classes," said Ziba Colah, a biochemistry major working for two years in the lab of Daniel Frigo, an assistant professor in the Department of Biology and Biochemistry. "In my biology classes, I learned about western blotting, extracting RNA and extracting proteins, but I never really did it until I got into a lab."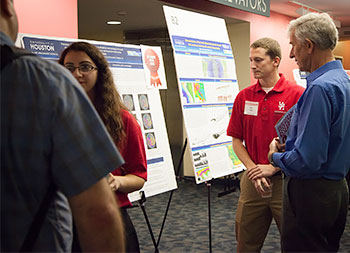 Preparation for graduate school is another motivating factor for research exposure.
"My ultimate goal is to apply to master's or Ph.D. programs in geology. Potential graduate advisors look for people with experience and who understand what it takes to be a graduate student," said Andrew Steier, a post-baccalaureate student in geology working with Department of Earth and Atmospheric Sciences Professor Paul Mann. "The great thing about undergraduate research is that you learn so much more and you learn it more quickly than you would in a classroom."
Five NSM Students Win Outstanding Poster Awards
Sixteen Outstanding Poster Awards were presented during Undergraduate Research Day with five NSM students recognized.
Thao Do "The Effect of Metabolic Syndrome on Cornea"
Dillon Kopecky "Gold Single Crystal Electrodes as a Support for Cobalt Monolayers to Study the Electrochemical Evolution of Oxygen"
Hoang Luu "The Cost of Immunity on Fecundity Evolution in Infected Populations"
Andrew Steier "Evaluation of Previously Published Kinematic Plate Models for the Opening of the South Atlantic Ocean Using a GIS Compilation of Geologic and Geophysical Information"
Sheiva Vakili "Targeting Androgen Receptor Mediated Sugar Metabolism in Prostate Cancer Through Inhibition of Glucose Transport"
- Kathy Major, College of Natural Sciences and Mathematics