Six NSM Graduate Students Selected for Future Faculty Fellowship

Fellowship Helps Students Develop Skills Necessary for University Teaching
Six College of Natural Sciences and Mathematics graduate students, one from each department, were selected for UH's Future Faculty Fellowship.
The fellowship is designed to prepare graduate students for careers in academia. Fellows participate in a range of professional development activities, including workshops, discussion panels, topical seminars and online training focused on effectively engaging, instructing and assessing learners in diverse disciplines.
NSM Future Faculty Fellowship Participants

Peter Anderson - Geology
Giwan Katwal - Physics
Lydia St. Hill - Chemistry
Simon Stolarczyk - Mathematics
Guilia Toti - Computer Science
Huy Vu - Biology and BiochemistryThe program also serves to increase the students' awareness of the demands of faculty life. In all, 20 Ph.D. students were selected. The awardees were drawn from majors ranging across all the disciplines offered at UH.
The Fellowship program began with a four-week, half-day "boot camp" held in July and August. Each student participant was awarded an $1,800 scholarship at the end of the four-week program.
"During the training course, we focused on examining how students actually learn and what different methods and practices we can employ to facilitate learning," said Peter Anderson, a Ph.D. student in the Department of Earth and Atmospheric Sciences. "We discussed how these various techniques are perceived by the students we teach, and why that matters."
Throughout the 2015-2016 academic year, the students continue to meet every other week for additional seminars and workshops.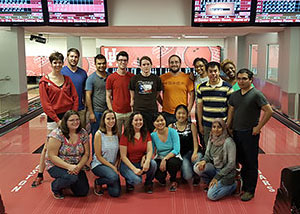 "The program established a foundation of the steps needed to proceed with a career in academia after graduation," said Lydia St. Hill, a Ph.D. student in the chemistry department. "The boot camp also allowed us to establish connections with nearly every college in UH. We gained insight into how other parts of the university work."
This fall, the Fellows are applying their new skills through the teaching assignments they were given by their departments. St. Hill is working on a course in UH's Exploratory Studies program.
"We are developing and teaching the core 1101 class to aid the success of students who are undecided in a major or who are working to meet the prerequisites to transfer into their desired major," St. Hill said. "Our team of six works to design tasks that will yield a path to a successful college experience with topics such as leadership and study skills."
- Kathy Major, College of Natural Sciences and Mathematics