NSM Celebrates Three 4.0 Graduates and UH's Oldest and Youngest Grads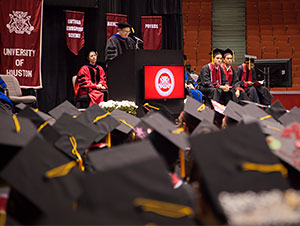 Nearly 600 bachelor's, master's and doctoral degree candidates participated in the College of Natural Sciences and Mathematics (NSM) Spring Convocation on May 14. Held at University of Houston's Hofheinz Pavilion, the ceremony occurred one day ahead of the University-wide Commencement.
More than 30 doctoral candidates earned degrees in atmospheric sciences, biochemistry, biology, chemistry, computer science, geology, geophysics, mathematics, or physics. Approximately 100 NSM candidates for master's degrees and 450 candidates for bachelor's degrees participated in the ceremony. There were 41 summa cum laude graduates, the highest academic honor for bachelor's degree recipients.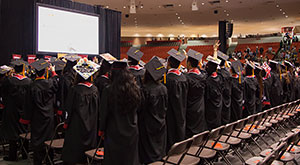 The ceremony recognized NSM's three, exceptional 4.0 summa cum laude graduates, and the University's oldest and youngest graduates.
NSM's 4.0 Summa Cum Laude Graduates – Headed to Medical School
Christopher Huynh, Nhon Le and Varun Potluri were honored as NSM's 4.0 summa cum laude graduates. While at UH, they shared a common experience of helping fellow students improve their understanding of various science topics.
All three are headed to medical school at Baylor College of Medicine.
Read about NSM's 4.0 Graduates
UH's Youngest and Oldest Graduates – NSM's Omar Harmouche and Christopher Gantela
This semester, NSM had the rare distinction of having the University of Houston's youngest and oldest graduates. Omar Harmouche, 18, completed his bachelor's degree in biology and plans to go to dental school. Christopher Gantela, 78, completed his Ph.D. in geophysics after a long career as a geophysicist.
Read about NSM and UH's Youngest and Oldest Graduates
- Kathy Major, College of Natural Sciences and Mathematics