NSM Graduate Students Excel in UH's First Graduate Research Day

Three Students Take Home Awards
Twenty-two College of Natural Sciences and Mathematics graduate students participated in the University of Houston's First Annual Graduate Research and Scholarship Projects (GRaSP) Day.
The day showcased the rich array of graduate research-related activities across all disciplines and was designed to serve as a vehicle for getting the graduate students' research to a wider audience. The event celebrated the research, scholarship and creative endeavors of UH graduate students from all colleges.
NSM students participated in three areas: research poster presentations, GRaSP talks on research (5-10 minute TED-like talks), and a publication competition. Each entry was reviewed by a panel of invited judges.
Entries for the best scholarly publication by a graduate student included books, articles in journals, or conference proceedings, provided that the student was the first author (or joint first author) and the publication was published in 2013 or 2014.
NSM Students Recognized in All Three Categories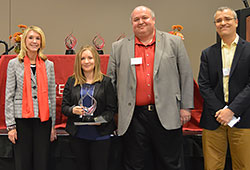 Efi Tsouko with Provost Paula Short, Graduate School Dean Dmitri Litvinov and Ricardo Azevedo, graduate chair of the Department of Biology and Biochemistry (far right).First Place Scholarly Publications
Efi Tsouko, Ph.D. Student, Biology and Biochemistry
Article Title: "Regulation of the pentose phosphate pathway by an androgen receptor–mTOR-mediated mechanism and its role in prostate cancer cell growth"
Published May 26, 2014, in Oncogenesis, a journal of the Nature publishing group.
GRaSP Talk People's Choice Award
Panagiotis Moutafis, Ph.D. Student, Computer Science
Topic: "Who's Who"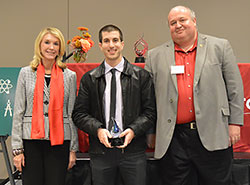 Panagiotis Moutafis with Provost Paula Short and Graduate School Dean Dmitri Litvinov.In his talk, Panagiotis highlighted that, whether we want to unlock our cell phones or pay with our credit cards, we need to be able to verify our identity. He argued that biometric technologies can help us accomplish this task easier, faster and in a more secure manner. He shared some of the face recognition methods developed by the Computational Biomedicine Lab and concluded with his vision that the coupling of biometric authentication with artificial intelligence will make a difference in our everyday lives.
Runner-Up Poster Presentation
Huang-Chi Du, Ph.D. Student, Chemistry
Poster Title: "Disruption of PTEN:5-HT2CR coupling : A potential treatment for restoration of 5-HT2CR function"
- Kathy Major, College of Natural Sciences and Mathematics