Clinical Trials of Anti-Cancer Drug PT-112 Begin in U.S.

Three Sites to Collaborate on First-in-Human Study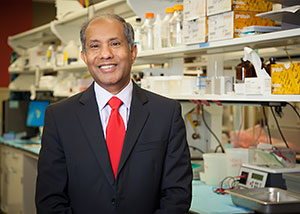 Three cancer centers in the U.S. are beginning clinical trials of a new platinum-based chemotherapy discovered by Professor Rathindra Bose of the University of Houston.
The Phase I clinical trials on the drug, known as PT-112, will focus on patients with non-small cell lung cancer, gastrointestinal cancers, or recurrent ovarian cancer. The trials are underway at the University of Texas M.D. Anderson Cancer Center in Houston, the Sarah Cannon Research Institute in Nashville, Tenn., and the University of Colorado Cancer Center in Aurora, Colorado. The study hopes to enroll around 80 patients across the three centers.
Part of a new family of compounds called phosphaplatins, PT-112 is designed to replace prior generations of platinum-based chemotherapies used for cancer treatment.
These prior generations of platinum-based compounds have been used as broad-spectrum cancer therapies and are often used in combination with other cancer treatments. However, they suffer from occasionally severe toxicity and are commonly linked to kidney damage, nerve pain, shaking and hearing loss.
"Many patients also develop resistance to these platinum therapies. Since DNA is the target for the conventional platinum therapies, resistance, in most cases, is associated with the efficient DNA repair mechanisms in the human body," said Bose, who discovered and characterized the phosphaplatin family of compounds, which are designed to focus on non-DNA targets.
Bose, the vice president for research and technology transfer at UH, has been working on platinum-based drugs for more than 20 years.
"It is a passion of my life," said Bose, who joined the UH faculty in 2011 and is also vice chancellor at the UH system. "My goal has been to find a class of compounds that would have less toxicity and a different drug resistance profile, and would therefore be more effective."
Bose's work focused on understanding the mechanism of action of the platinum class of drugs. In 2005, he succeeded in making the phosphaplatin class of compounds. Phosphaplatins are designed not only to reduce adverse effects but also to overcome potential resistance to treatment since they do not target DNA.
"We began to test the compound in animals and did not experience the toxicities commonly found in the platinum-based therapies on the market," said Bose, who is on the faculty of both the College of Natural Sciences and Mathematics and College of Pharmacy at UH.
The next step was to expand the investigation and send the compound to the National Cancer Institute for screening against 60 major human cancer cell lines. "It turns out from their screening, that nearly all of the cell lines showed a highly positive response," he said.
PT-112 targets the three major pathways that can be used to control cancer.
"It can trigger the genes that suppress the tumor, cut off the blood supply to the cancer cells, or target the body to kill only the cancer cells," Bose said.
PT-112 is licensed to Phosplatin Therapeutics of New York, NY. The FDA approved the company's application for PT-112 as an investigational new drug in early 2014.
Initial testing in the clinical trials will monitor dosage levels, tolerance and adverse effects, to set a recommended dose. The study will involve cancer patients for whom all available treatments have failed.
"As the company progresses in clinical trials, we are hoping to see a significant impact on cancers where other drugs have failed," Bose said.
- Kathy Major, College of Natural Sciences and Mathematics