Two NSM Students Selected for Goldwater Honorable Mention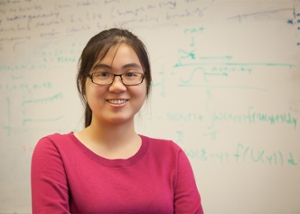 Khanh NguyenKhanh Nguyen, a physics and mathematics double major at the University of Houston, is one of 283 students nationwide chosen for a 2014-2015 Barry Goldwater Scholarship. She will receive up to $7,500 to support her undergraduate education.
The Goldwater Scholarship is one of the most prestigious scholarships for students in mathematics, natural sciences and engineering. Nguyen is the only UH student selected for the honor.
"I've loved math since I was little and was in honors math in Vietnam," she said. "When I moved to Houston in 2008, I had to adjust to having all my classes taught in English. Math was my best subject because I just looked at the equations and solved them."
By her second year at Dobie High School in Pasadena, lectures in English were much easier to understand.
"My high school teacher encouraged me to try physics, and a UH physics professor visited our school and told us how physics teaches you about how the world works," she said. "He made an impact on me, and I knew I wanted to major in physics."
Undergraduate Research Experience
Nguyen, a junior in the College of Natural Sciences and Mathematics (NSM), is involved in undergraduate research and works with Zachary Kilpatrick, an assistant professor in the Department of Mathematics, on research in mathematical neuroscience applications. The project looks at navigational ability and the brain and uses mathematical modeling.
"If we can understand how navigation works in the brain, we can apply it to many fields like medicine and robotic cars," Nguyen said. "Imagine a car that can drive itself to a destination and not hit any objects around it."
She also participated in a 10-week summer research program with Dr. Lev Gelb at the University of Texas at Dallas in summer 2013.
Teaching and Tutoring UH Students
As part of NSM's Scholar Enrichment Program, Nguyen taught the Physics II workshop in fall 2013, helping students better understand physics. This semester, she is a specialized tutor in Physics I.
"Being a workshop leader is more like being a real teacher than a tutor; it definitely gave me good experience at teaching others," she said. "It was great to have students come back and tell me they made a good grade on a test."
Nguyen will graduate in May 2015. She plans to pursue a Ph.D. in applied mathematics and to conduct research in neuron mathematics and teach at the university level.
"It is such an honor to receive this scholarship. It will help me complete my last year at UH without having to worry about paying for tuition," she said.
Two NSM Students Receive Goldwater Honorable Mentions
Nationwide 1,166 students were nominated by their colleges and universities. While 283 were chosen for the scholarship, another 247 received a Goldwater Honorable Mention. Only two UH students, both from the College of Natural Sciences and Mathematics, were named to the Goldwater Honorable Mention list.
Christina Stegemoller – Goldwater Honorable Mention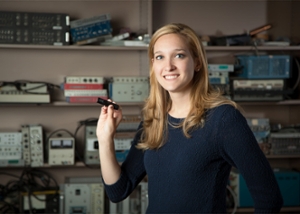 Christina StegemollerChristina Stegemoller, a physics major, is doing undergraduate research with physics professor Lawrence Pinsky and is part of his Medipix research group.
"We are developing a series of active detector devices for use as radiation dosimeters and area monitors in space radiation environments," Stegemoller said. "These can be used in Earth orbit, on planetary surfaces, and in deep space."
Exposure to space radiation is a significant danger to humans in space, and these devices allow space radiation environments to be assessed in real time.
Stegemoller has always had an interest in physics but earned her first bachelor's degree in government from the University of Texas at Austin. She then earned a law degree and was a finance attorney.
"As a lawyer, I tried to satisfy my lingering curiosity in physics with public lectures, scientific papers, and visits to museums," she said. "In time, I realized these after-hours adventures were not enough to satisfy my desire to explore the sciences."
She came to UH in 2011 to begin undergraduate studies in physics. Stegemoller will pursue a Ph.D. in physics and plans to conduct research in elementary particle or astroparticle physics.
Marisa Simon – Goldwater Honorable Mention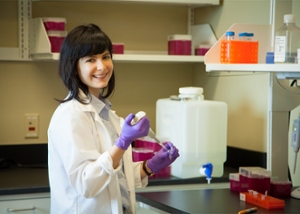 Marisa SimonBiology major Marisa Simon plans to pursue a Ph.D. in molecular medicine and specialize in cancer research.
"During my career, I want to help devise new targeted therapies for cancer, confirm their safety for human use through clinical trials, and develop more effective preventative measures."
Her exposure to cancer research began at UH in the lab of Cecilia Williams, an assistant professor in UH's Center for Nuclear Receptors and Cell Signaling. The work is targeting the most severe subtype of breast cancer, called triple-negative breast cancer. Simon's project is to validate a potential molecular target for the treatment of this type of cancer.
"The work that Dr. Williams and I are doing is what I perceive to be the future of personalized cancer therapy," she said. "So far, there have been great successes with using protein-targeted therapies in clinical trials."
For Simon, strong mentors have been important to shaping her career plans.
"Karen Weber in the Office of Undergraduate Research stimulated my initial involvement in research and really supported me in my career endeavors," she said. "Dr. Cecilia Williams is also a strong influence on me; I see how she manages her lab and how much effort she puts into education and research. It is really inspirational."
- Kathy Major, College of Natural Sciences and Mathematics