teachHOUSTON Program Receives Million Dollar Endowment

ExxonMobil Funds Endowment through National Math + Science Initiative

A $1 million endowment funded by the ExxonMobil Corporation will help University of Houston's teachHOUSTON program continue to train the next generation of secondary science and math teachers. The endowment is part of a matching program coordinated through the National Math + Science Initiative, an organization that focuses on the most critical element in education – teaching.
teachHOUSTON had to raise $1 million in its endowment to qualify for the matching funds.
"This gift will have a tremendous impact in future years as these and other funds grow in our endowment," said Jeff Morgan, co-director of teachHOUSTON.
The teachHOUSTON program, a partnership between UH's College of Natural Sciences and Mathematics and the College of Education, is changing the way that science and math teachers are trained. Instead of one student teaching experience in their senior year, teachHOUSTON students have teaching opportunities throughout their four years at UH with rotations at local elementary, middle and high schools.
Training for STEM Teaching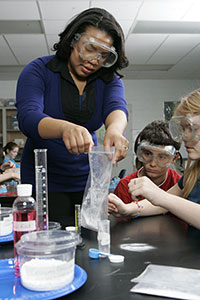 The program is producing secondary teachers who are better suited to prepare their students for rigorous college courses in math and sciences and for careers in science, engineering, technology and mathematics (STEM) fields.
"Our students are getting degrees in a STEM area and getting training that is specific to teaching STEM," said Morgan, who is UH's interim associate provost for education innovation and technology. "They get field-based experiences from their first year, so our students have much more exposure to teaching before they get their first teaching job."
UH's teachHOUSTON program started in 2007 with 14 students. It was the first replication of a program at University of Texas called UTeach. Now, thirty-three universities across the nation replicate the UTeach program.
Goal: Graduate 100 Teachers per Year
With nearly 340 students enrolled, teachHOUSTON graduated more than 40 teachers this year. Morgan says the goal is to graduate 100 teachers per year.
"If you look across all the replication sites, five years out 80 percent of the teachers graduated are still in the classroom; that is significant," Morgan said. "Almost all of our graduates stay in Houston and work in our local school districts."
Morgan believes it is a win-win situation. "Local industry will benefit from improved math and science teaching in area schools; this university will benefit from it," he said.
The real beneficiaries are the thousands of students who will be taught by teachHOUSTON graduates.
"Kids deserve to have good instruction, and this program can make a difference," Morgan said.
- Kathy Major, College of Natural Sciences and Mathematics