More than 500 Candidates Participate in May Commencement
Khan and Sweed recognized as 4.0 graduates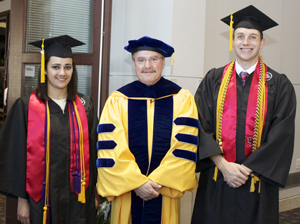 Dean Mark A. Smith with NSM 4.0 Summa Cum Laude Graduates, Wajiha Khan and Nathan Sweed.
The College of Natural Sciences and Mathematics (NSM) held its Spring Commencement on May 11 with more than 500 bachelor's, master's and doctoral degree candidates crossing the stage. Held at University of Houston's Hofheinz Pavilion, the ceremony also included UH's Cullen College of Engineering and Gerald D. Hines College of Architecture.
Nearly 40 doctoral candidates earned degrees in atmospheric science, biochemistry, biology, chemistry, computer science, geology, geophysics, mathematics, or physics. In addition, approximately 120 NSM students were candidates for master's degrees and 370 students were candidates for bachelor's degrees.
During the ceremony, two NSM 4.0 summa cum laude graduates were recognized, Wajiha Khan, a biology major and psychology minor, and Nathan Sweed, a biochemistry major and chemistry minor. Khan and Sweed participated in the commencement opening procession serving as NSM's Banner Bearers. As 4.0 students, both graduates had the honor of sitting on stage for commencement.
Khan, who was born in Karachi, Pakistan, graduated from Stratford High School. At the age of five, she decided she wanted to be a dentist and will pursue that lifelong dream in the fall when she enters the University of Texas School of Dentistry at Houston. As a member of the UH American Student Dental Alliance, she was one of four students chosen to participate in the Texas Dental Association's Legislative Day in Austin, where she lobbied for bills pertaining to dentistry and malpractice.
When asked about her experience at UH, Khan remarked that she loved being exposed to so much diversity. "Because of the many people I met here from different backgrounds, I've learned so much about what the world has to offer, from different interests and career options, to the many ways people can impact the world," Khan said.
Sweed is from Sugar Land, Texas, and graduated from Hightower High School in Missouri City. He transferred to UH in 2009 from Bard College. Immediately after graduation, he will be conducting organic chemistry research with Dr. Benjamin Mosier at the Institute for Research, Inc., in Houston. He plans to attend medical school in the future.
While at UH, Sweed was a member of Phi Kappa Phi, a national collegiate honor society for all academic disciplines, and received the chapter's award for the highest GPA in his group of inductees. When he's not in class or studying, Sweed works part-time as a caddy and maintains his 1974 Triumph motorcycle.
The experience that impacted him most at UH was working in the American Chemical Society Tutoring Center. Encouraged to become a tutor in 2009 by chemistry professor Dr. Simon Bott, Sweed has been the student in charge of the center since the summer of 2011. "Running the tutoring center taught me how to work with people and how to take on responsibility and work without supervision," he said.
Sweed and Khan also served as keynote speakers at NSM's Tribute to Scholars, Leaders and Partners in Excellence Luncheon on May 7.
- Kathy Major, College of Natural Sciences and Mathematics