Daugulis' Research Highlighted in C&E News and JACS Spotlight

Work Addresses Copper-Catalyzed Ortho Fluorinations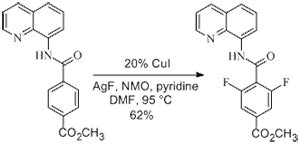 The work of Olafs Daugulis, University of Houston associate professor of chemistry, was a featured research highlight in two chemistry journals, Chemistry & Engineering News and the Journal of the American Chemical Society (JACS).
The highlights summarized Daugulis' paper, "Copper-Catalyzed, Directing Group-Assisted Fluorination of Arene and Heteroarene C-H Bonds," published online June 12 in JACS. The featured summaries help make the information more accessible to a broader community of researchers and scientists. Co-authors on the paper were chemistry graduate students Thanh Truong and Kristine Klimovica. The research was funded by the National Institutes of Health and The Welch Foundation.

The procedure described in the paper adds to recent advances in organofluorine chemistry that are making it easier for chemists to synthesize pharmaceuticals, agrochemicals and radiolabeled agents for medical imaging applications.
Featured Research Summaries
Chemical & Engineering News featured the research in its "Science & Technology Concentrates" section. The summary is titled "Copper Enables Direct Aromatic Fluorinations."
JACS summarized the paper in the "Spotlights on Recent JACS Publications" section published on the web on July 8. The summary is titled "Cheap and Easy C-F Bonds."
Abstract - June 12 Daugulis JACS Article
We have developed a method for direct, copper-catalyzed, auxiliary-assisted fluorination of β-sp2 C−H bonds of benzoic acid derivatives and γ-sp2 C−H bonds of α,α-disubstituted benzylamine derivatives. The reaction employs a CuI catalyst, a AgF fluoride source, and DMF, pyridine, or DMPU solvent at moderately elevated temperatures. Selective mono- or difluorination can be achieved by simply changing reaction conditions. The method shows excellent functional group tolerance and provides a straightforward way for the preparation of ortho-fluorinated benzoic acids.