Chemistry Excellence Fund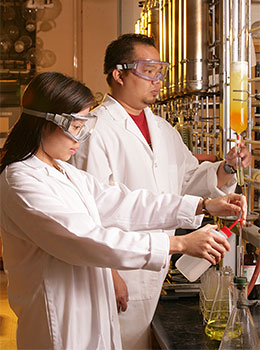 The Chemistry Excellence Fund allows the department to have a direct and immediate impact on UH undergraduate and graduate students, programs, and faculty that are not funded through state support.  These funds can be used for faculty and student travel to conferences, research and undergraduate laboratory equipment, student-initiated seminars, and program support.
Your gift to this fund will allow the department chair to use the funds where they are needed most. Select Chemistry Excellence Fund from the menu on our online giving page under "NSM Chemistry."
Undergraduate Operating Scholarships and Awards
We show our appreciation to our most talented undergraduate students by giving them departmental awards and scholarships.  With this extra support, students can focus on their studies to reach their educational goals.
Operating scholarships provide support for a single year and provide one-time, immediate financial assistance for current and prospective students.  Special awards allow us to recognize exceptional students who have excelled in the classroom and/or in undergraduate laboratory research.  To support this effort, select Chemistry Undergraduate Scholarships and Awards from the menu on our online giving page under "NSM Chemistry."
If you are interested in creating a permanent source of funding for a scholarship through an endowment, please contact Stacy Halley at sahalley@uh.edu or 713-743-7701.
Graduate Fellowships and Awards
Graduate fellowships provide funds to doctoral students in the Department of Chemistry. Rewarding the top students with graduate fellowships or excellence awards allows us to recruit and retain high-achieving students — one of our Tier One Initiatives! These students are conducting research to solve real-world problems in the areas of health, energy, and the environment under the guidance of our world-class faculty.
You may give annually to support graduate fellowships, or you may establish an endowed fellowship that provides for funds in perpetuity.  Our online giving page provides a mechanism for giving an operating gift by selecting Chemistry Graduate Fellowships and Awards from the menu under "NSM Chemistry."
If you are interested in establishing an endowed fellowship, please contact Stacy Halley at sahalley@uh.edu or 713-743-7701.
Research and Faculty Support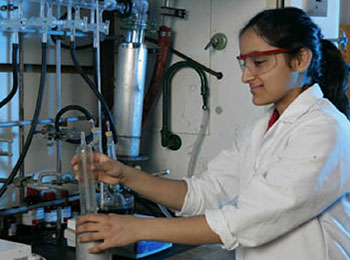 Faculty research is the foundation of a Tier One university, and the Department of Chemistry has many research stars.  Ognjen Miljanic, assistant professor of chemistry, is the first UH faculty member to be recognized by the Research Corporation for Science Advancement (RCSA) as a Cottrell Scholar. He was selected for his innovative teaching methods and for his research to synthesize molecules with applications in environmental analysis, energy and chemical industry. Recently, Professor Olafs Daugulis received the Norman Hackerman Award from the Welch Foundation.  This prestigious award recognizes him for his groundbreaking contributions to transition metal-based catalysis and potential to become an international leader in his field of research.
We need your support to attract and retain research stars such as Professors Miljanic and Daugulis.  Your research support allows faculty to pay for special items that are not funded through private and public grants or state funding, such as travel to professional conferences to report research findings, specialized research equipment or supplies, and research personnel.  A gift to this area will help us make more discoveries and achieve more international recognition.
Select Chemistry Research and Faculty Support from the menu on our online giving page under "NSM Chemistry."