Houston Mayoral Election Survey 2019
This fall Houstonians will elect the mayor who will serve until the end of 2023. To better understand the dynamics of this contest, the University of Houston Hobby School of Public Affairs conducted a representative live operator telephone survey, using land-line and cell phones in English and Spanish, of 501 likely voters between October 1 and October 9. The results provide a snapshot of public opinion related to the mayoral race four to five weeks before the November 5 election day and two to three weeks before the start of early voting on October 21. Much can happen during this stretch however, ranging from an October surprise adversely affecting a frontrunner to increased exposure of a trailing candidate leading to greater support for them among voters.
The data suggest Mayor Sylvester Turner is, at least at the present time, potentially on a path to victory. Among all likely voters, 43.5% intend to vote for Turner, and early runoff pairings suggest that at least as of early October, he would easily defeat all four of his most likely rivals in a runoff.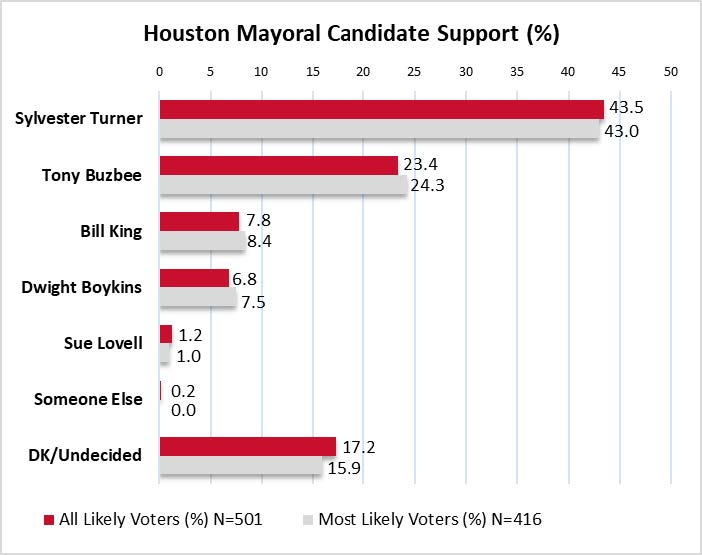 In the event of a runoff, Tony Buzbee would be Turner's most likely rival. Buzbee is supported by 23.4% of likely voters, triple the number who intend to vote for Bill King (7.8%) and Dwight Boykins (6.8%), with Sue Lovell at 1.2%. The data suggest Turner would defeat all four rivals in a runoff by a margin of between 18.8% (vs. Buzbee) and 38.5% (vs. Lovell).
Strong ethnic/racial differences exist in the support for the candidates. Buzbee's support is strongest among Anglo/White voters, of whom 37.2% indicate they plan to vote for Buzbee, followed closely by 34.4% for Turner, and 11.8% for King. Turner is the overwhelming favorite among African American voters, 59.4% of whom plan to cast a vote for the mayor. Among the other candidates, only Boykins enjoys double-digit support among African Americans (13.5%). Turner is the preferred candidate among Latino voters (42.6%), with Buzbee the only other candidate with double-digit support (13.1%).
Boykins and King suffer from relatively low name recognition among likely voters. More than two-thirds (68.7%) do not know enough about Boykins to have either a favorable or unfavorable opinion of him; those who have an opinion on average have a favorable one. More than one-half of likely voters (54.3%) do not know enough about King to have an opinion of him; those who do on average have a favorable one. The most well-known politician is President Donald Trump. Trump is also the least popular; 31.9% hold a favorable and 63.1% an unfavorable opinion.
Unsurprisingly for a survey taken in the aftermath of Tropical Storm Imelda, 41.1% of likely voters rank flooding as the most important problem facing Houston, followed by crime (22.0%), rising property taxes (9.0%), traffic congestion (8.4%), and road quality (8.0%). Read more.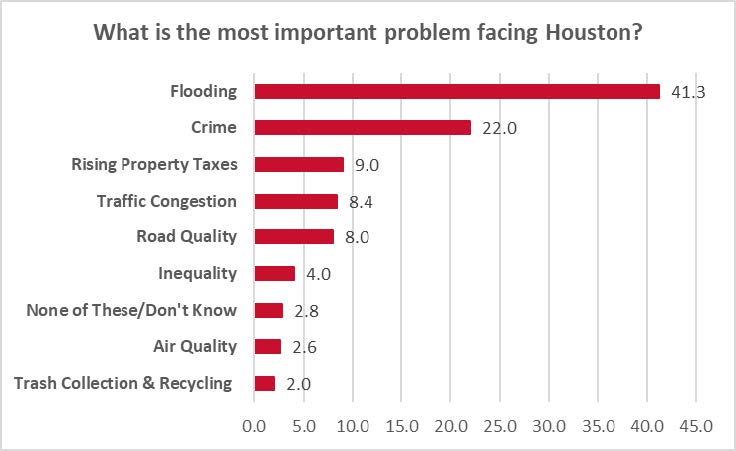 Research Team
Renée Cross, Senior Director & Researcher, Hobby School of Public Affairs

Mark P. Jones, James A. Baker III Institute for Public Policy's Fellow in Political Science, Rice University; Senior Research Fellow, Hobby School of Public Affairs

Richard Murray, Professor of Political Science, University of Houston; Senior Research Fellow, Hobby School of Public Affairs

Agustín Vallejo, Post-Doctoral Fellow, Hobby School of Public Affairs
Media
Houston Chronicle October 20, 2019
Houston Newsmakers - KPRC October 20, 2019
Houston Public Media October 21, 2019
NewsRadio 740 KTRH October 21, 2019
Fox 26 Houston October 20, 2019
Texas Election Source October 20, 2019