Former Civic Houston Interns Showing Cougar Pride in Austin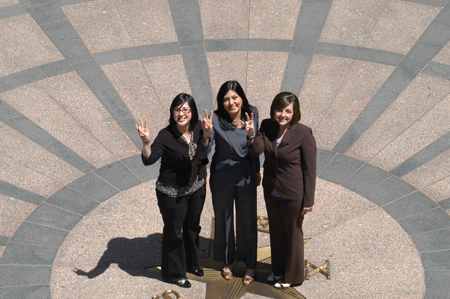 Mirel Herrera (UH Legislative Intern & former CHIP Intern), Debra Gonzales (Legislative Director & former CHIP intern) and Lesley Nelson (Legislative Aide & former CHIP and TLIP intern) worked in the office of State Senator Mario Gallegos during the 2009 legislative session
The Hobby School of Public Affairs' internship programs and affiliated partnerships provide high caliber students an exceptional opportunity to explore and learn about various aspects of public service in legislative, political and non-profit environments in Houston, Washington and Austin.
An article in the UH Alumni magazine features Hobby School former interns/current staffers in Austin. Read the article UH Nurtures Connections to its Community - UH Prepares Students to Meet Real-World Needs by Marisa Ramirez.
Hobby Fellows
Hobby Fellows offers UH undergraduate students the opportunity to work as full-time interns in the Texas Capitol during regular legislative sessions.
The majority of University of Houston students work while attending college. Few UH students can pursue public service careers in Austin or Washington, D.C., because internships—the primary gateway to permanent jobs in these cities—are available only to students who can afford to live away from home. The Hobby School of Public Affairs provides a stipend to the Hobby Fellows during the session to offset their expenses. More...
The 2019 Hobby Fellows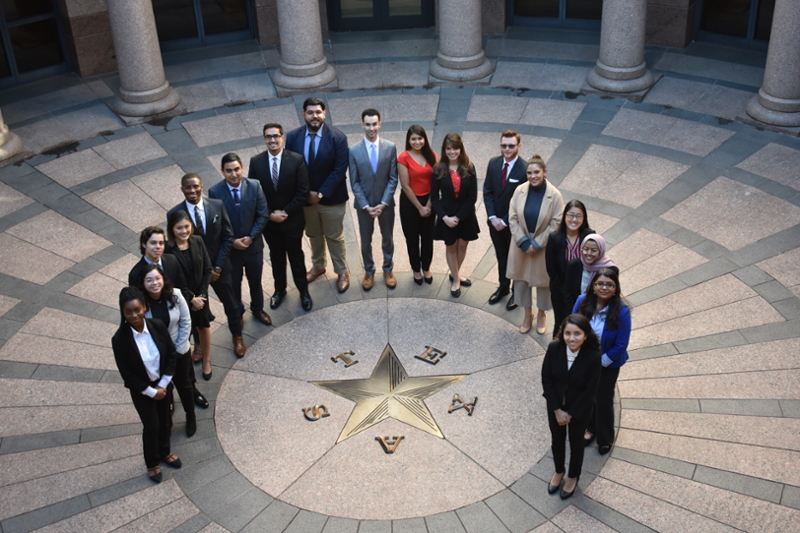 Leland Fellows
Leland Fellows offers UH undergraduate students the opportunity to work as full-time interns in the U.S. Capitol during regular legislative sessions.
Historically, economically disadvantaged students could rarely pursue employment opportunities as congressional staff members due to the reality that internships — the primary recruitment avenue — are available only to those who can financially afford to live in Washington, D.C. These expenses, plus loss of income from a local job, place this opportunity beyond the reach of many students. Leland Fellows provides a monthly stipend and round-trip airfare, as well as paid housing. More...
The 2018 Leland Fellows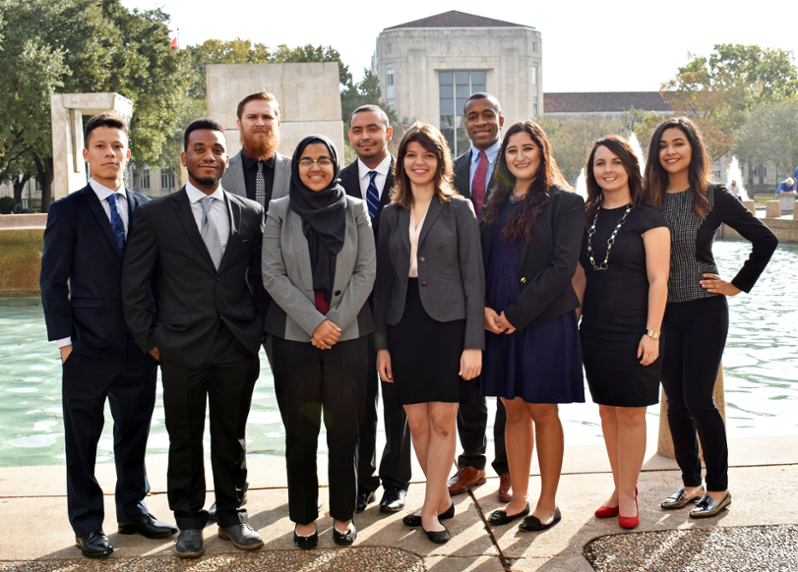 Santiago Franco, Yusuf Bavi, Ayesha Muzzafar, Sara Alhalabi, Irina Alejandro, Jessica Ruland, Dina Hamadi
Jaeson Freitas, Apolinar Abonza, Troy Allen
Thank you to the 2018 Leland Fellows Sponsors.
Civic Houston Internship Program (CHIP)
The Hobby School of Public Affairs' Civic Houston Internship Program offers students the opportunity to gain first-hand experience in public service. The program is offered to University of Houston students every fall and spring semester, and is led by Renee Cross.
The interns work an average of 8 hours per week over the 15-week semester in offices with elected officials at the municipal, county, state or federal levels. Some interns are assigned to community service organizations and campaigns. The interns meet as a class four times during the semester. Evaluation is based on a daily journal, a term paper, and an assessment by the office supervisor.
Mickey Leland Congressional Internship Program
Founded by the late U.S. Congressman George Thomas "Mickey" Leland, the Mickey Leland Congressional Internship Program provided University of Houston and Texas Southern University students the opportunity to serve as government interns in Washington, D.C. Each year, 6-10 students spent a semester directly involved in the political process. Intern activities included providing assistance in legislative research and attending committee hearings.
Supported by a major grant from Houston Endowment and matching funds from private entities, the Leland internship included weekly seminars, furnished housing, and a monthly stipend. The program was directed by Renee Cross.
The 2010 Mickey Leland Congressional Interns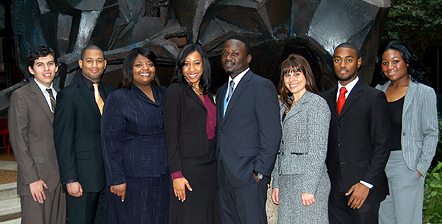 Jose Eduardo Sanchez, Bobby Ray Williams, Tonya Chissell-Williams, Janae Ladet, Shukri Aziz, Rachel Burnett, Kaine Hampton and Jeneba Haffner
Hobby Leadership Award
The Inaugural Hobby Leadership Award honored Paula Santamaria and Junru Roland.  Read more about the award.
Richard Murray Scholarship
The Richard Murray Endowed Scholarship was established in 2008 for the purpose of honoring Dr. Richard Murray's service to the Houston community and 40 years of teaching and research at the University of Houston.  Click here to read more.
Other Internship Opportunities
The Center for Houston's Future is a dynamic, community based organization that brings together business and community to innovate for the future of the Houston region. This is accomplished by planning strategically for the region, strengthening the base of diverse business and civic leadership, and informing people, while engaging them in the necessary ground-work for Houston's future.
The Coalition for the Homeless of Houston/Harris County is a private, nonprofit organization whose mission is to lead in the development and implementation of community strategies to prevent and end homelessness. In 1982 at the request of then Harris County Judge Jon Lindsey and Houston Mayor Kathryn Whitmire, the Coalition for the Homeless of Houston/Harris County (the Coalition) was founded by area homeless social services for an exploding number of people who were homeless that were emerging as a result of local economic deterioration.
Summer, fall and spring internships are available in Congresswoman Sheila Jackson Lee's District and Satellite offices. Learn first-hand about the operation of a congressional office. Students must intern a minimum of 10 hours per week.
The Texas Legislative Internship Program (TLIP), sponsored by the office of State Senator Rodney Ellis and coordinated by TSU's Mickey Leland Center, provides undergraduate and graduate students the opportunity to serve as interns in the Texas Legislature and various Texas agencies.
The Institute for International Public Policy Fellowship Program is a six component, multi-year program for underrepresented minority students that starts in the sophomore year of undergrad and continues through to graduate school.
Neighborhood Centers Inc. brings resources, education and connection to more than 236,000 people throughout Houston and the Texas Gulf Coast area each year. Volunteers are always welcome.
Barrio Dogs of Houston is a not-for-profit organization targeting the overpopulation and neglect of animals in low-income neighborhoods.The Hobby School of Public Affairs' Civic Houston Internship Program (CHIP) partnered with Barrio Dogs to offer credit to University of Houston and University of Houston-Downtown students for fall/spring semester.