Environmental Stewardship and Employment Choices in Energy: Evidence from a Survey of University of Houston Students
Economic actors, including investors, consumers, and workers have increasingly prioritized their values in their investment, consumption, and employment choices. This, in turn, has created incentives for firms to become more sensitive about their environmental, social, and corporate governance (ESG) practices. In the energy sector, leading companies gathered under the International Petroleum Industry Environmental Conservation Association (IPIECA) have adopted reporting standards on their environmental practices. Given the growing role of ESG practices in the energy sector, understanding the attitudes towards social responsibility and environmental stewardship among current UH students are important and relevant in both the business and political realms.
To this end, UH Energy and the Hobby School of Public Affairs designed and fielded a survey aimed at gauging how potential employees in the energy industry perceive ESG practices and how ESG standards influence their employment decisions. A total of 1,068 students enrolled at UH completed the survey, which was fielded online between March 7 and April 22, 2022.
Survey Highlights
The vast majority of UH students (96%) believe that climate change is happening, and a majority of respondents (57%) said that climate change is caused by both human and natural changes in the environment.
97% of UH students are at least somewhat concerned about the state of the environment. However, there are some differences by students' field of study, gender, and political ideology.
Students in business management and administration are less likely to be very or extremely concerned about the state of the environment compared to students in the natural sciences, engineering, and social sciences.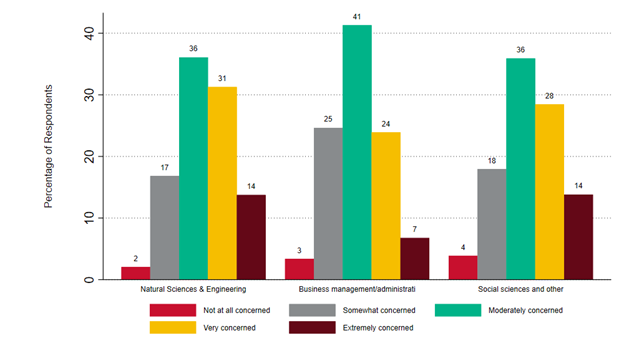 Respondents think that students, friends, family members and the public in general are not as concerned about the environment as they are. While 11% of respondents said they themselves are extremely concerned with the state of the environment, less than 5% of respondents thought that others are. 
The majority of respondents, but particularly women, view ethical and environmental practices as important when making employment decisions. More than 70% of female respondents rated each of the seven attributes associated with ethical, social, and environmental standards as important or very important.
UH students prioritize ESG standards when deciding whether to work for a company in the energy industry, but gender, political ideology, and race and ethnicity explain some variation in the importance placed on ESG stewardship.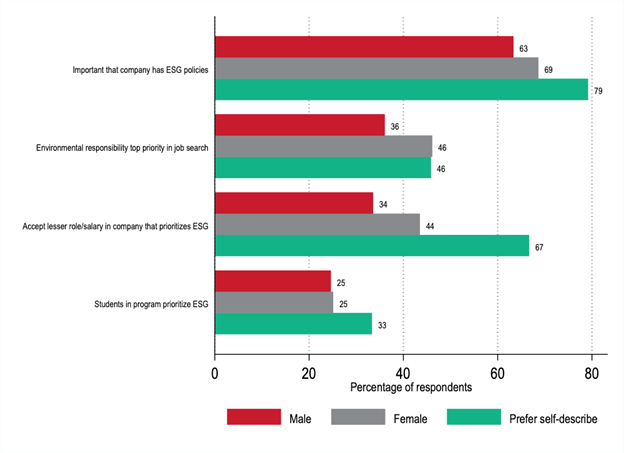 Respondents preferred working for a renewable company over a natural gas company or an oil drilling company, and they were twice as likely to choose a job offer from a leader in ESG than one from a company criticized for not meeting even minimum standards.
Estimates show variation by gender of respondent.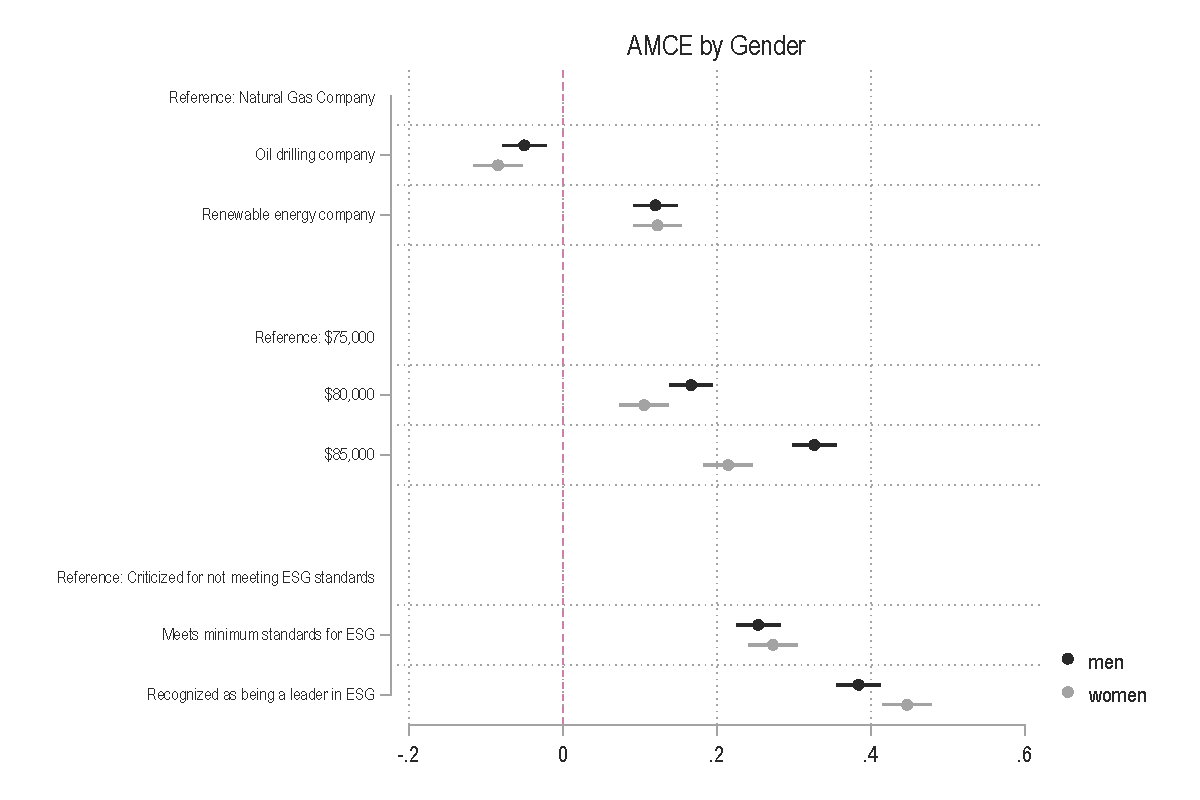 ESG stewardship was the most important attribute for students when considering job offers, followed by starting salary, then industry.
Female respondents are more sensitive to environmental stewardship and less sensitive to starting salary than male respondents.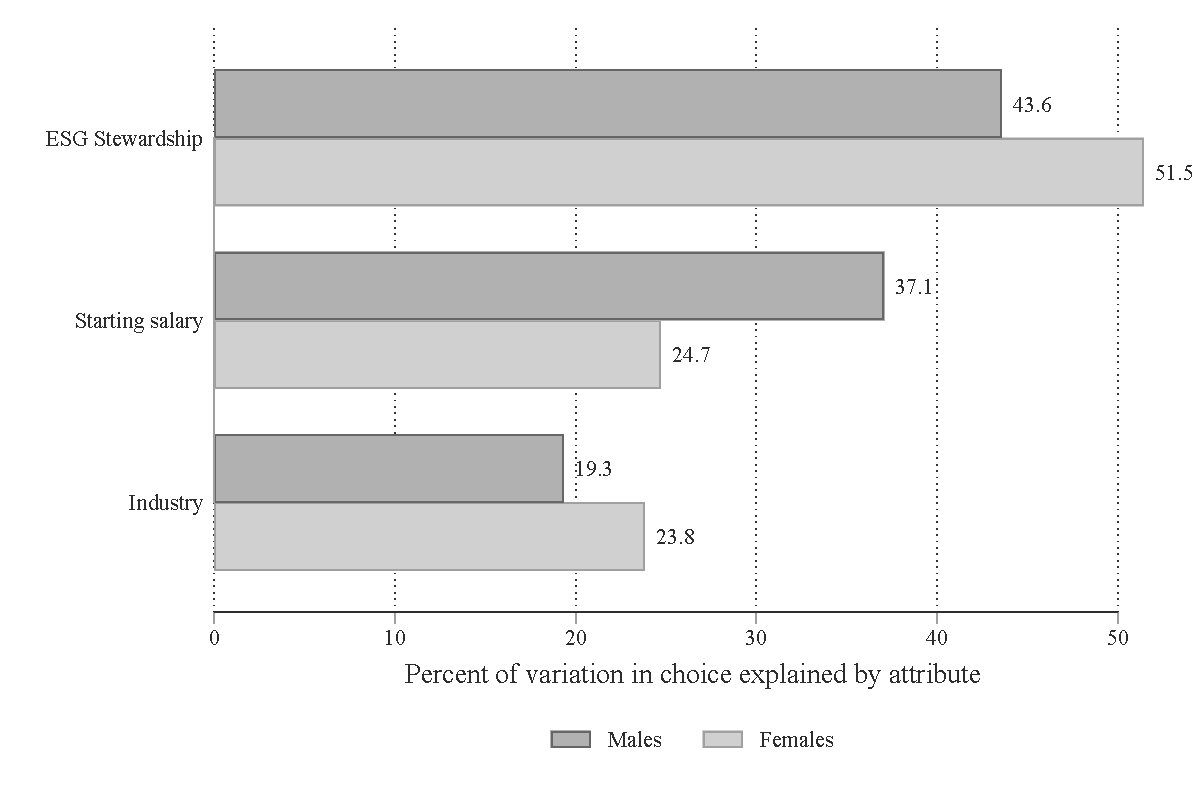 Media Release, September 9, 2022
About the UH Energy-Hobby School ESG Student Survey:
This is the second survey conducted by UH Energy and the Hobby School of Public Affairs examining how environmental stewardship practices impact students' employment preferences and decisions. Click here to read the results of the first survey.
Research Team
Karen Banda, Research Assistant and MPP Candidate, Hobby School of Public Affairs
Gail Buttorff, Director, Survey Research Institute, and Instructional Assistant Professor, Hobby School of Public Affairs
Aparajita Datta, Graduate Assistant, UH Energy, and PhD Student, Department of Political Science
Ryan Kennedy, Research Associate, Hobby School of Public Affairs, and Professor, Department of Political Science
Ramanan Krishnamoorti, Chief Energy Officer, UH Energy and Professor of Chemistry and Petroleum Engineering
Maria P. Perez Argüelles, Research Associate, Hobby School of Public Affairs
Pablo M. Pinto, Director, Center for Public Policy, and Professor, Hobby School of Public Affairs
Savannah L. Sipole, Research Associate, Hobby School of Public Affairs
Agustín Vallejo, Post-Doctoral Fellow, Hobby School of Public Affairs
Sunny M. C. Wong, Associate Dean of Graduate Studies and Professor, Hobby School of Public Affairs