Undergraduate Advisor Draws On Experience as Music and Theater Teacher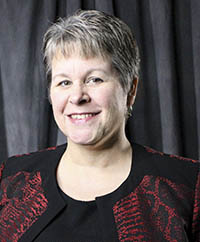 Undergraduate Studies academic advisor Tracy Rider
Posted Jan. 30, 2017 – As an undergraduate advisor in the College of Education, Tracy Rider works to keep undergraduate students on track toward graduation. It's a lot to juggle, but she's used to it.
Rider, who joined the college in August 2016, worked for 18 years as a middle and high school choral music and theater arts teacher in Texas, Massachusetts and California. She directed productions ranging from Shakespeare to "Shrek." She also has served as director of admissions and student affairs for the School of Music at Boston University.
A lifelong singer and actor, Rider continues to perform occasionally at local residential facilities for the elderly, weddings and other special events, including the college's holiday party in December. 
"I look forward to seeing what she has in store for next year, and maybe we can perform a duet again," said college business administrator Paul Roch.
Rider, who advises students majoring and minoring in health, took a quick break to reflect on how her new work connects with her old.
Q: How do your past jobs as a director of admissions and choral/theatrical director help you connect with your current students?
A: Teachers have to understand the whole student, not just how they perform in one subject. Empathy and understanding help me support the health students I advise. As a choral or theatrical director, I had to see the big picture, and with the health students, I have to see the students' big picture in the form of their degree progress.
Q: How does your middle and high school teaching experience help you now?
A: I believe that to some extent college kids are really just kids in bigger packages.
Q: Could you tell me some elements of teaching that fit into your current job?
A: In good classroom management, a teacher needs to make it clear to students that their decisions are their decisions. That transfers to my current job because I try to make students take ownership of their degree progress.
Q: What do you think it takes to be a good advisor?
A: I'm still learning, but I would say being patient and understanding of students' situations is crucial, especially if they are struggling.
Q: What do you like most about your job as an advisor?
A: It never becomes boring or tedious. On a typical day, I see many students with varying situations, and at the end of the day I wonder where the time goes.
–By Kathy Patnaude