Mentorship Program Allows UH Students to Apply Classroom Lessons in Real World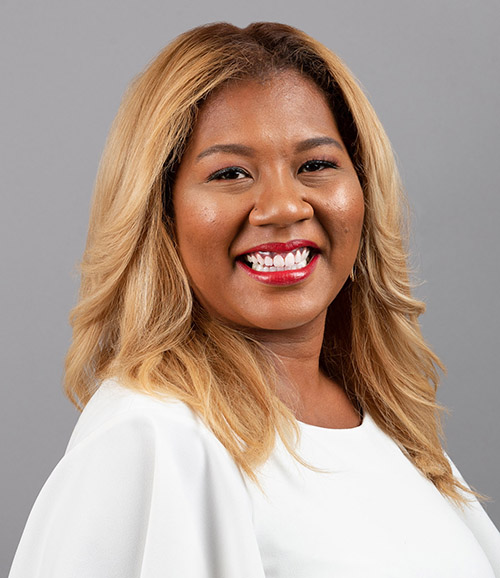 Posted Nov. 21, 2019 — Today's lecture: Socioeconomic status and its effects on student achievement. Toya Conston, a professor at the University of Houston College of Education, emphasizes to her class that disadvantaged students aren't any less motivated; they just don't have access to the same resources.
To help end the inequities, Conston started a mentorship program called Ed Psych in Real Life. Students in her Introduction to Educational Psychology course get the chance to apply the lessons from class by serving as mentors to middle school students.
More than 100 of Conston's students this semester are mentoring eighth graders at Lawson Academy, a charter school neighboring UH. They meet with the mentees weekly for 45-minute sessions, helping the teenagers navigate schoolwork and social pressure.
Conston, director of the College's human development and family studies program, found that many of her students enjoy learning in the field over a type-written assignment.
"I make an effort to ensure that educational psychological concepts reviewed in class have a direct connection with what mentors will observe while working with their mentee. This way, the mentor has a chance to understand how the concept applies in real life, and mentees receive a person showing up to have a positive impact," she said.

The real world education has proved immediate and rewarding. Many of Conston's students have never worked with at risk youth or those from cultures other than their own. The program allows them to step out of their comfort zone while stepping up to help younger students.
Tiana Saulus, a first-time mentor, credits the program with honing her communication skills, while reinforcing her long-term goal of teaching. Fellow mentor Trystn Cardenas added that she recognizes parts of herself reflected in the Lawson Academy students.
"They're fun and loving kids," Cardenas said. "They seem so excited about life, just like how I remember being in eighth grade. I didn't have a mentor in junior high, but it would have really helped me come out of my shell and realize that I shouldn't care so much about what people thought of me."
The mentorship program is supported by a $7,500 grant from the UH Advancing Community Engagement and Service (ACES) Institute, which promotes high-quality service learning opportunities that enhance student engagement and address community needs.
"The ACES Institute is pleased to support faculty in providing our students opportunities to do community-engaged service with our Third Ward partner schools," said Anne McClellan, director of the institute and executive director of growth and innovation at the College of Education. "We're delighted with the progress of our partner schools, and this work contributes to that progress."
Conston is working to expand the mentorship program to another school in Third Ward. She has deep ties to the historic community, moving there almost two decades ago.
"There's something about the culture here in the Third Ward community that you just don't get anywhere else," said Conston, who grew up in Abilene, Texas. "You really just have to be entrenched in the neighborhood to understand all the nuances that make Third Ward what it is."
—  By Alberto Huichapa