Former Classmates Use Human Development Degree to Support Foster Children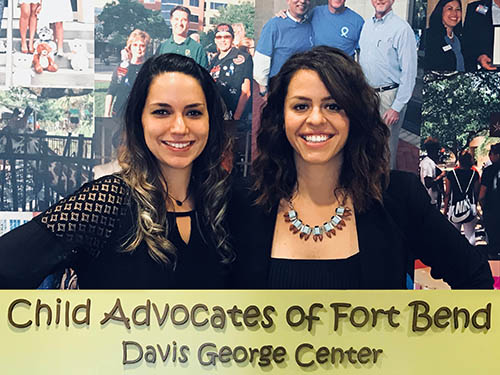 Krystal Vann (left) and April Shaver work together supervising volunteers who serve as advocates for children who are victims of abuse or neglect.
Posted November 27, 2017—Five years after graduating from the University of Houston, close friends and College of Education classmates April Shaver and Krystal Vann have teamed up to help improve the lives of some of the state's most vulnerable children.
Shaver and Vann (COE '12) work for Child Advocates of Fort Bend (CAFB), a nonprofit that supports children who are victims of abuse or neglect, many of them now in foster care.
"They are full of life in ways you wouldn't imagine after what they've been through," Vann said of the children. "It's very rewarding to be around such an optimistic and resilient little person who's been through so much trauma."
Shaver and Vann, who both majored in Human Development & Family Studies, recently returned to the College to share their career journeys with current students in the program.
"I learned about interacting with people and children and how to really engage people in an appropriate way based on their developmental level and mental functioning," Vann said.
Vann and Shaver work with the Court Appointed Special Advocates, or CASA, program at CAFB. They supervise volunteers who serve as advocates for child victims of abuse and represent their best interests in the foster care system. They also organize educational programs to provide developmental and social development experiences for children in foster care.
Serving one of the largest counties in Texas, the Fort Bend CASA program supports more than 250 children, ranging from newborns to 21-year-olds. The program is one of many nationwide but is unique because it has been able to provide a volunteer advocate for every child in Child Protective Services custody in Fort Bend County.
Clinical Assistant Professor Erica Jordan invited Vann and Shaver to participate as guest speakers this fall as part of her Careers in Human Services course. Jordan has hosted several other guest speakers to show her students the diverse career opportunities available through HDFS.
Students from the course also had the opportunity to shadow Vann and Shaver on the job.
"I'm really trying to push my students to connect," said Jordan, who serves as assistant chair of student success for the College's Psychological, Health & Learning Sciences department. "It's helpful having people come in and having [students] ask questions in a less threatening environment."
Vann and Shaver met their junior year at the College of Education, in a research methods course. Both were pursuing HDFS degrees and hit it off right away. They have remained friends through travels and different paths immediately after graduation.
Shaver spent the first couple years working in the child life department of various Houston-area hospitals. She then fulfilled a lifelong dream of teaching abroad when she moved to Thailand, where she taught English at a private Christian school.
"There was a toddler classroom for 2- to 3-year-olds, and I immediately jumped into that because that was familiar to me," Shaver said. "Development is the same wherever you are. I wasn't with my family and I didn't know the language, so those kiddos were what was familiar to me."
Working alongside Thai teachers gave her insight on the culture's different educational and developmental priorities, which often varied from what she had experienced in America.
"You just have to take those baby steps of showing them what you know. Their teaching style over there is very much call-and-response, even at a very young age," Shaver said.
Vann, on the other hand, worked as a teacher for a year before transitioning to her job at Child Advocates of Fort Bend. Because she had volunteered as a child advocate herself during college, she jumped at the opportunity to pursue a career there.
Both Coogs said they were drawn to jobs where they could make a positive impact.
"It's so nice to work with people that are so passionate about making an impact for these kids. That's the best part," Shaver said. "We all have a goal of doing what's best for these kids, developmentally, socially and academically."
—By Claire Andersen
—Photo courtesy of Vann and Shaver
Volunteer Opportunities:
Alumni willing to volunteer as guest speakers in professor Erica Jordan's Careers in Human Services course can email her at efjordan@uh.edu.
For upcoming events and volunteer opportunities at Child Advocates of Fort Bend, visit https://www.cafb.org/ or contact Krystal Vann at khughes@cafb.org.