'It's Not Play': College of Education Health Students Conduct Research for AIDS Foundation Houston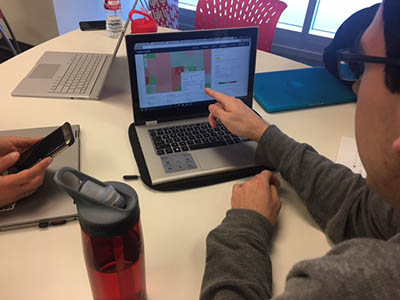 College of Education students taking Health Promotion and Disease Prevention, taught by Ken Ripperger-Suhler, map data in the Active Learning Classroom in February 2017.
Posted March 6, 2017 – The roughly 45 college students hovered over laptops, zooming in on a map of the city. They were working on a project to help AIDS Foundation Houston. The areas shaded red represented "hot spots" – neighborhoods where residents are statistically more likely to be undiagnosed with HIV or AIDS based on demographic and socioeconomic factors.
Their professor, Ken Ripperger-Suhler, chimed in to give additional instructions.
"I don't want to stop. This is fun," said Kimberly Jimenez, a senior majoring in health at the University of Houston College of Education.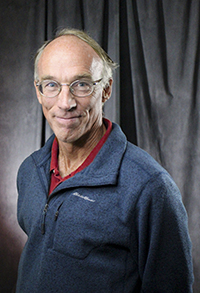 Ken Ripperger-Suhler, a clinical assistant professor of health, said he wants students to get real-world experience in his class.
The required course is called Health Promotion and Disease Prevention. Ripperger-Suhler, a clinical assistant professor, said he wanted the students to experience real-world work, so he reached out to a contact at AIDS Foundation Houston, Nike Blue, to talk about the nonprofit's needs.
Blue, chief program officer, shared that funding for outreach efforts has dwindled in recent years, and she's worried that too many Houstonians are living with HIV or AIDS and don't know it. HIV typically presents like the flu, if any clear symptoms show at all. On top of that, healthcare access remains a challenge. Texas leads the nation in the number of uninsured. Even getting to a clinic can be difficult for families who lack cars or access to public transportation.
Roughly 26,300 people were living with HIV in the 10-county Houston region, according to the most recent data available from the Texas Department of State Health Services. In 2015, more than 1,300 people in the region were newly diagnosed with HIV.
The AIDS Foundation Houston has a mobile van that deploys into neighborhoods, typically upon request, to test for HIV, syphilis and hepatitis. Blue said she wanted Ripperger-Suhler and his students to help guide the nonprofit group to the neighborhoods most in need.
So Ripperger-Suhler put his students to work this semester. During a recent class, they analyzed and mapped various factors such as household income, education level and race. They met in the university's Active Learning Classroom at Building 1020 in Cougar Place, giving them access to laptops, wireless internet and whiteboards. The room, the professor said, facilitates the work.
"It's real. It's not play," Ripperger-Suhler said.
The course is well aligned with the general instructional approach at the College of Education, emphasizing a blend of service learning and research.
 This story drew attention from KPRC-TV Channel 2.
"This is a great example of real-world applications of the course materials, which can empower our students to be social change agents," said Ezemenari Obasi, chairman of the Psychological, Health and Learning Sciences department and associate dean for research.
After identifying potential hotspots, Ripperger-Suhler told the students, their next step was to drive to some of the neighborhoods. They were supposed to verify that the data they analyzed were accurate and to interview healthcare workers about the needs. The students were working in teams of about four or five. One would stay behind to do computational modeling to validate the data another way.
"It's giving us a lot of responsibility, but I like it," Jimenez said. "I feel like we're serving a purpose."
"It's like a job, but a cool job," she added.
-By Ericka Mellon