Staff Spotlight: Academic Advisor Builds Connections to Support Students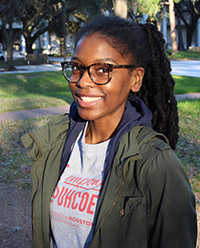 Posted Feb. 11, 2020 — Hungry for new opportunity, Oluwasade Orebiyi left her hometown of St. Louis, Missouri, to work as an academic advisor at the University of Houston College of Education.
"I don't like to limit myself," Orebiyi said. "I'm looking to get connected with new faces, new experiences and enhance my creative side."
Joining the staff last February, Orebiyi said her approach to advising is about being the advisor she never had: a comforting presence who gives direct and supportive guidance to students.
Learn more about Orebiyi in the Q&A below.
You've just hit your one-year anniversary with the College of Education. How has it been?
It's been a great experience! I enjoy working with everyone and working with students from many different backgrounds. This is one of the greatest jobs I've had.
How did you get into advising?
During my time as an undergraduate in St. Louis, I took on a student advising role and had the opportunity to gain insight on student experiences. I enjoyed talking to students and wanted to continue doing that.
What approach do you take to advising?
I didn't want to be the advisor who gives students a piece of paper, tells them their classes and sends them on their way. Advising is all about building connections with your students, knowing they can come to you to be a support system.
What do you hope to achieve this semester?
There's always room for improvement, so I'm looking forward to being a better communicator.
You came to Houston for opportunity. What are some opportunities you've looked into?
I'm considering doing either a second master's in social work or higher education, a Ph.D. in communication, or another degree in some type of creative field.
How has Houston been for you so far?
It's been good! I've been exploring all the different restaurants because I love food, good food at that.
What two places would you recommend people try out?
Tout Suite and Wazobia.
What are some of your favorite hobbies?
I love to read. I like to write on the pages and wish the pages would talk back to me.
What's one book you'd recommend to students?
Ta-Nehisi Coates' "Between the World and Me" would be an essential read for all students.
— By Alberto Huichapa
— Photo by Jaime Questell