Staff Spotlight: Department Assistant Keeps Team Organized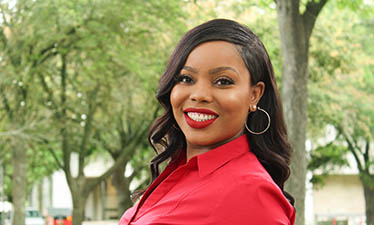 Posted May 7, 2019 – It's no surprise Nicole Switzer had perfectly organized three-ring binders in high school. Today, as the administrative assistant for the Department of Psychological, Health & Learning Sciences at the University of Houston College of Education, she arranges class schedules, beats deadlines and keeps faculty on track with the same precision.
The native Houstonian, who joined the College in September 2017, said she enjoys operating as somewhat of a "fixer."
Switzer attended UH for three years before graduating from UH-Downtown with a B.S. in teaching and learning and a B.B.A. in marketing. Motivated by her teenage son, she said she hopes to teach at the college level someday.
Recently, Switzer took a break to answer some questions.
Q: What are some things to know about your background?
A: My background is pretty vanilla: eldest of three kids, grew up in Friendswood, both parents are college grads; straight-A student, yearbook and newspaper editor in high school, waitress and bartender through college. Did my student teaching in second-grade classes, then decided I didn't want to teach younger students after having a child of my own in college.
Q: Have you always been organized, even as a kid?
A: Yes. I was always the kid with the perfectly organized Five Star binder and three-prong folders. Everything had an assigned place, arranged by subject, type (homework, assignments, quizzes, etc.) and due date. Even my backpack was extremely organized. That's also how I operate at work – strategically organized email folders and files and a frequently updated calendar with clear due dates that are set days before the actual due date.
Q: What is the most challenging part about your job?
A: At times, I am pulled in so many different directions that I feel overwhelmed. But staying organized and calm helps to ease that feeling; then, before I know it, the day is over.
Q: Who is your biggest inspiration?
A: My 14-year-old son, Michael, is my greatest inspiration. He motivates me to set the best example possible and show him that you should never let (perceived) obstacles get in the way of your goals. I want to do all I can to help him reach his own personal goals.
Q: What are some of your favorite hobbies?
A: Driving for Uber and Lyft. It's like a social hour for me. I love to drive, and I love to talk, so that allows me to do both and make extra money.
Q: What do you do in your spare time?
A: My spare time is all about family, whether it's going to the movies, family game night or checking out a new restaurant for Sunday brunch.
Q: Any fun facts about yourself?
A: Fact No. 1: I do not own a single pair of jeans. I'm more of a dress girl.
Fact No. 2: I love whitewater rafting! I have hit rivers in Arkansas, Costa Rica, Ecuador and Canada. My dream is to run the Zambezi River in Zimbabwe.
–By Asia Jackson-Sublet
–Photo by Jaime Questell