Research Debriefed: M. Nicole Coleman A series highlighting articles published by University of Houston College of Education faculty
Posted May 17, 2019
ARTICLE FAST FACTS
"The Relation of Black-Oriented Reality Television Consumption and Perceived Realism to the Endorsement of Stereotypes of Black Women"
Author: M. Nicole Coleman, associate professor
Department: Psychological, Health & Learning Sciences
Co-authors: Akilah A. Reynolds and Autena Torbati
Journal: Psychology of Popular Media Culture
Publication date: January 2019
Topic: media consumption and black women
Key finding: College-educated black women did not endorse negative stereotypes of black women after watching black-oriented reality TV.
INTERVIEW WITH THE AUTHOR
Q: What was the main question you were trying to answer?
A: Part of the bigger picture we were trying to answer is, do black women behave stereotypically because they're being socialized by media to think this is how black women are? Are there other ways black women can be portrayed in the media? To what extent are those impacts having a negative effect on our community?
Q: What method did you use for this research? What steps did you take?
A: For this particular research, we used the survey method. We recruited participants through two different methods: the undergraduate subject pool on campus and snowball sampling on social media. Other members of the research team and I posted on our social media accounts and asked other people to share it and sign up if they qualify.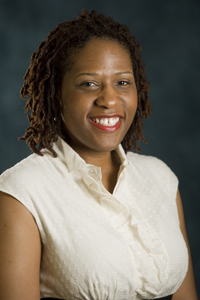 Q: What were the qualifications for the survey participants?
A: Participants were in early adulthood between the ages of 18 and 25 across different educational levels. They were asked to fill out a short survey asking about what reality TV shows they watch, how many hours per week they watch television, how much of that television is black-oriented, and stereotypes related to black women.  
Q: What were your most significant, interesting or surprising findings?
A: The most significant finding was the opposite of our hypothesis. The women in this sample did not strongly endorse these negative stereotypes even when they had been consuming black-oriented reality television. Our outcomes told a better story than the predicted one that assumes if you consume a lot of negative television, then you will have negative stereotypes.
Q: What policy or future implications do you see?
A: In the future, I see better media being produced. It may not be reality TV because drama, sex and conflict sells reality TV. In scripted television, we are seeing more complicated and realistic portrayals of black women in the past couple of years and I think that is a good place for us to be moving toward.
Q: What initially interested you in this topic?
A: Survey research says that black women consume more television than other demographic groups and black people tend to watch shows that are black oriented more than other TV shows. Reality TV shows are the most popular shows, with a 700% increase in primetime offerings. I am interested in black women's sexuality, how media socializes black women around that, racial diversity in reality TV, and stereotypical portrayals of black women.
---
"Our outcomes told a better story than the predicted one that assumes if you consume a lot of negative television, then you will have negative stereotypes" — M. Nicole Coleman

---
Q: What did you learn from your research?
A: Our sample consisted of highly educated black women across the country from New York, California, the Midwest and other parts of Texas. These women had bachelor's degrees, and some had master's degrees. I learned that if you have education, which oftentimes means you have critical-thinking skills, you watch reality TV for entertainment, not to see a reflection of yourself and blindly accept that this is how all black people are.
Q: What do you hope to research next?
A: My research by and large is always about black women. I am particularly interested in black women's media interest as well as black women's healthy sexuality. Social media is referred to in research literature as "new media." We have some work where we have been looking at social media, psychological well-being of social media and risky sexual behavior. You produce social media just as much as you consume it.
–By Asia Jackson-Sublet