UH College of Education Alum Wins Early Career Psychology Award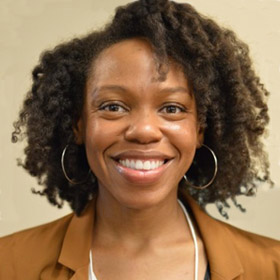 Posted Sept. 25, 2019 – Martinque "Marti" Jones, a two-time University of Houston College of Education graduate, has won an early career award from a section of the American Psychological Association for her research on how race and gender shape black women's identity.
Jones earned the 2019 Carolyn Payton Early Career Award from APA's Division 35 Section I (The Psychology of Black Women). The award recognizes the achievement of a black woman in the early stages of her career.
"My work historically has centered on the experiences of black women," said Jones, who was honored at the APA conference in August. "So to have an organization of black women recognize me for my work on black women means a lot. I feel honored to be among those who have received the award."
Jones earned a master's in counseling from the College in 2013 and a doctorate in counseling psychology from the College in 2016. She's now in her first year as an assistant professor of psychology at the University of North Texas in Denton.
Jones' dissertation focused on gendered racial identity, examining the significance and meaning that black women assigned to their race and gender. Based on surveys of 240 black women, she found that four different profiles emerged:
Intersectional Engaged: "Members of this profile tend to view their race and gender as similarly and moderately important."
Race Progressive: "Women within this cluster demonstrate higher levels of racial centrality compared to gender centrality."
Intersectional Aware: "The highest levels of racial and gender centrality make this cluster distinguished from others."
Gender Expressive: "This is the only cluster in which member's gender centrality was higher than their racial centrality."
Her article, written with College of Education Research Professor Susan Day, was published in the journal Sex Roles in November 2017. It's one of nine articles that Jones had published in peer-reviewed journals by age 31.
Campus Connection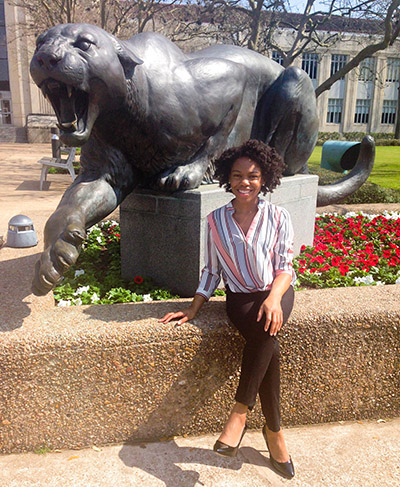 Jones, who grew up in Katy, was the oldest of two girls in her family. She said her parents stressed the importance of pursuing a college education.
"I would think my parents wanted me to go to college more so than I did," she said with a laugh.
In addition to studying a lot in high school, Jones also devoted hours to practicing the saxophone. She was a member of the marching and jazz band and recalls visiting UNT – her now employer – many times for competitions.
Jones went on to earn a bachelor's in psychology from the University of Texas at Austin – drawn to the discipline for allowing her to explore her varied interests. While there, she started a chapter of the Association of Black Psychologists, the first one at the university, she said.
"I was very interested in the meaning of blackness, or black folk, and how people came to understand their race, and what that meant in terms of their own self concept and how they moved about in the world," she said.
Jones graduated from UT Austin in 2010 and moved back to Houston. She was attracted to the training offered at UH, she said, as well as the city's racially and ethnically diverse population, the Texas Medical Center and proximity to family.
'Continue to Push Forward'
At the UH College of Education, Jones said professors Roberta Nutt, Consuelo Arbona and Day played critical roles in her development as a psychologist. They served as role models, she said, and helped broaden her research interests to focus not only on race but also on gender.
"One of the very first things I noticed about her was that she was very quick on the draw," Day said of Jones. "We were talking about research on identity, research methods and some statistical matters. She quickly understood what I was getting at. I didn't need to back up and explain the basics."
As a professor now, Jones said she wants her students to apply what they learn in class into their personal lives to gain a better understanding of themselves as individuals and professionals and the interconnectedness.
Jones said she's grateful to the UH College of Education for equipping her with the necessary skills to facilitate difficult and uncomfortable conversations through exposure to multicultural counseling and practical insight.
"There are going to be people who say your work is not valuable, particularly when your work focuses on the experiences of people of color, or marginalized groups," she said. "Despite all that feedback that you may receive from society and the universe, keep the bigger picture in mind and continue to push forward."
–By Alberto Huichapa
–Photos courtesy of Marti Jones