A Helping Hand: UH College of Education Alumna Empowers Houston's Northside Community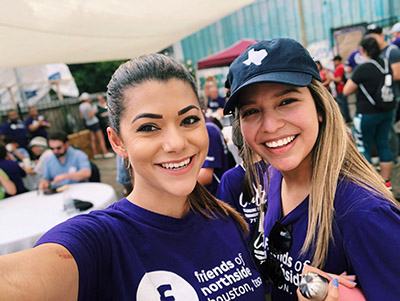 Posted Feb. 12, 2020 — "You can't help others if you don't help yourself first."
The age-old adage rings true to University of Houston College of Education alumna Kim Martinez.
A high achiever and self-described "Type A" go-getter, Martinez has always pushed herself to excel. She graduated summa cum laude with a bachelor's degree in just three years, received a job offer the day before commencement and was promoted within her first year. Yet she is keenly aware of the importance of self-care, so she can give back wholeheartedly to her hometown.
Martinez now serves as the volunteer coordinator for the Friends of Northside division of Attack Poverty. The nonprofit works with underserved neighborhoods in the Houston region as well as internationally, collaborating with community leaders, local organizations, churches and residents to provide services to those in need. Martinez works closely with members of the community, in addition to recruiting volunteers, fundraising and working with Attack Poverty's young professionals group.
 "We're big on relationships and storytelling," she said. "My days will sometimes involve grabbing lunch or, even better, eating pan dulce while chatting with residents. We believe that we can't serve the Northside community if we don't develop relationships built on reciprocal trust and integrity."
Building authentic connections is essential in her work, and she recognizes that those are made through time and emotional investment.
Though she admits the work can be heavy at times — she often works with people in crisis, such as parents struggling through a difficult divorce or families rebuilding their homes after Hurricane Harvey — she isn't deterred.
"I just want to help people," she said. For her, that means finding a healthy work-life balance. "If I didn't allow myself time to disconnect, I wouldn't be as helpful to the community. At the end of the day, we want them to have trust in us. We want to let them know that we are genuinely here to boost them up and awaken their potential."
Her desire to help others is what drew her to the human development and family studies program at the UH College of Education. "I find people, the human mind and body, really interesting," she said. "Just the way people grow and develop, the slightest thing can make a huge impact later on in someone's life."
After an introductory class on self-regulated learning with professor Janeen Antonelli, Martinez was hooked.
"I will never ever, ever forget professor Antonelli. She honestly changed my whole life," she said.
That first HDFS class taught her to assess her own learning patterns, which she built upon throughout the program as she developed skills to observe, build emotional connections and communicate objectively — all of which she continues to use today.
"My professors pushed me in such a good and fun way," she said "It's been so instrumental to how I work within the professional field."
— By Natalie Thayer
— Photo courtesy of Kim Martinez