Conroe ISD Names School After UH College of Education Alum Katherine Clark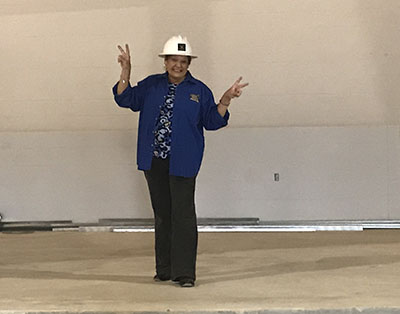 Kathy Clark recently toured the Conroe ISD intermediate school being named after her.
April 4, 2018 – It's been more than six months since the Conroe school board decided to name a new intermediate school after Katherine "Kathy" Clark, and she's still pinching herself back to reality.
Clark, who has bachelor's and master's degrees from the University of Houston College of Education, has worked in education for 37 years. She spent the majority of her career in the Conroe Independent School District, as a teacher and principal before retiring as communications director in 2012. She continues to work part time as a substitute administrator.
The campus –  Katherine Johnson Clark Intermediate School – is scheduled to open in August 2018, located about 30 miles from Clark's house.
"It's a very humbling experience," Clark said. "I can only say I didn't get there by myself. Success in schools is all about team effort."
Conroe ISD Superintendent Don Stockton praised Clark as a standout.
"We're honored to be able to name a school after Katherine Johnson Clark," he said. "She's a phenomenal educator who has made a lasting impact on everyone she's worked with throughout her illustrious career."
Clark, a native of northeast Houston, has known she wanted to be a teacher since fifth grade. "I never ventured into the possibility of anything else."
Her dad persuaded her to stay close to home for college. She started as an English major at UH but said the physical education and health faculty won her over. She still remembers the frank advice from one of her professors: "Expect to show up in a school and have one tennis racket to teach them all to play tennis."
Clark packed all her classes into three-and-a-half years and graduated with a bachelor's in December 1974.
She landed her first teaching job in North Forest, the same district where she grew up. It's also where she met her husband, Gary. He was the agriculture teacher and Eagle Guard sponsor at Smiley High School. She was the drill team director. They married in 1980 and moved to Conroe for more acreage.
While teaching P.E. in Conroe, Clark decided to return to UH for a master's. She considered majoring in dance but chose educational leadership after taking a fascinating education law class. Her sister, Karen, joined her in the graduate program.
"It was just phenomenal the things we would learn," Clark said. "We would say, 'This is the kind of leader we want to be.'"
Clark graduated with an M.Ed. in 1984 and got her first administrative job as an assistant principal at Conroe's Milam Elementary. She later served as an assistant principal at Wilkerson Intermediate and then as principal there and at Glen Loch Elementary.
"I was in classrooms a lot," Clark said. "I figured that's where I needed to be. That's one of the things UH instilled in me. A leader knows the heartbeat of the school, and that's the children. And then getting to see phenomenal teachers, it made me a better teacher to see the things they were doing."
After a stint in Spring ISD as an HR director, Clark returned to Conroe ISD as communications director.
"While it wasn't as close to the classroom and curriculum, it was still a wonderful opportunity for me to tell the story of all the great things that happen in CISD," Clark said.
Two of Clark's grandchildren are now in Conroe ISD, and her daughter works as a school counselor in the district. Her son is a major in the Air Force in Washington.
"I did not do as a good a job as my father did and say, 'You need to stay in Houston,'" Clark said with a laugh.
She had a chance to tour the construction site of Clark Intermediate a few weeks ago, and the honor began to sink in as the principal pointed out where children soon will be sitting in reading groups.
"Because my mom and dad valued education and because I always wanted to be a teacher and because I think schools are the coolest place, to have that legacy is just beyond words," Clark said. "I'm very grateful."
–By Ericka Mellon
–Photo courtesy of Kathy Clark