Ingenuity Applied: UH Alumnus and College Admissions Expert Adapts to COVID-19 Challenges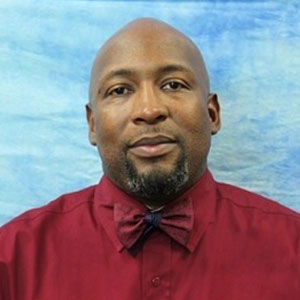 Posted July 7, 2020 — Third Ward native John Smith describes himself as "big on mentoring," citing the invaluable impact that members of the historic Houston community had on him as a young man.
"I've had mentors that helped mold me to be the man that I am today," said Smith, a two-time University of Houston alumnus who works as the director of graduate professional programs in the UH College of Technology. "Sometimes you may have those bumps in the road, but they're there to pick you up, dust you off and make sure you're still focused on your overall goal."
Smith, who earned an Ed.D. in professional leadership from the UH College of Education in 2018 and a bachelor's from the College of Technology in 2012, continues to pursue his goal of empowering others, particularly through higher education. He helps develop accessible graduate programs, supports current and prospective students, and teaches courses focused on organizational leadership and supervision.
In June, he also became president of TxGAP, the regional chapter of the National Association for Graduate Enrollment Management, made up of college recruiters, admissions officers and similar staff.
"We're all experiencing the same challenges with the COVID-19 pandemic and pandemonium," he said. "We have the opportunity to reach out to each other and share our practices, share ideas. We can be stronger together."
As UH moved to virtual classes and remote offices in the spring, Smith and his colleagues in the College of Technology launched virtual town halls for students to speak to advisors and moved the graduate orientation process online. The college, along with others across UH, also waived GRE and GMAT requirements and some application fees.
"Those are some of the things we're doing to be creative, to make sure we're doing everything we can to get our students taken care of," he said. "One of our mottos at the College of Technology is 'ingenuity applied,' so I had to apply some ingenuity."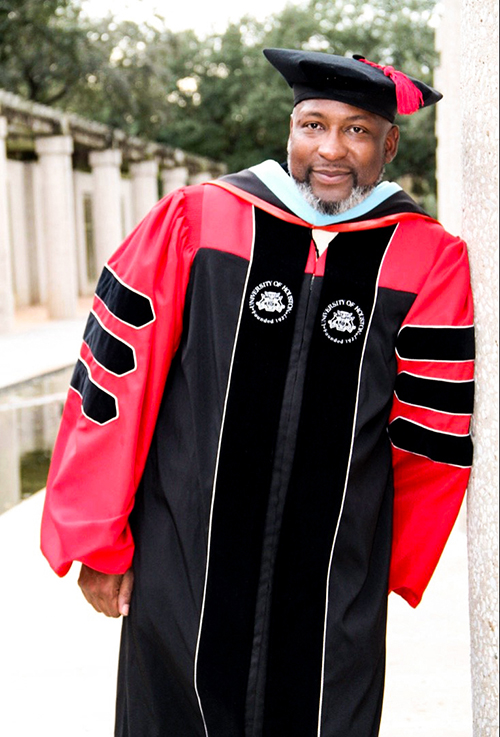 A Life-Long Learner
Smith grew up down the street from UH, one of seven children in a low socioeconomic family. He attended Yates High School, and, after losing his father to cancer at age 17, turned to mentors, godfathers and his brothers for guidance.
"These men embraced me, checked on me regularly and ensured I was staying focused and not succumbing to the environment around me," he said. He stayed busy with church youth group activities and joined the Boy Scouts and Yates' marching band.
After graduating high school, he worked as an admissions specialist at Texas Southern University. He went on to earn an associate degree in HR management from Houston Community College, a bachelor's in organizational leadership and supervision from UH, and a master's in organizational management and leadership from Springfield College, a private school based in Massachusetts with a Houston campus.
Throughout most of college, he worked for the Harris Health System, the county's health care system.  Working closely with patients there — especially those without the resources for quality healthcare — fueled his passion for health sciences. "I spoke with patients daily and heard their struggles," he said. He recalled how many of his own family members had difficulty receiving proper medical treatment. "It was personal."
The experience stuck with him. Later, he was inspired to pursue his doctorate after reading an article about the lack of African American men in medical school. "Realizing there were more Black men going to medical school in 70s than there were in this decade was alarming," he said.
The UH College of Education's Ed.D. in professional leadership, with a specialization in health science education, was a "perfect fit" where he could focus on studying the factors impacting Black men attending medical school.
"I was looking for a program that was local that I could do my doctoral research in and still be impactful," he said. "I really enjoyed the opportunity to get some exposure to the [Texas] Medical Center."
Smith said he continues to draw on the skills he developed in the Ed.D. program, applying what he learned from "phenomenal" instructors to guide his own students at the College of Technology.
"I really appreciate everything they embedded in me," he said.
Associate Professor Sara McNeil, who served as Smith's faculty advisor and chair for his doctoral thesis and dissertation, described him as a star student who exemplified the maturity and motivation she looks for in her students. "From the very beginning of his classes, he had a passion for looking for answers to complex problems that medical schools face — how to encourage diverse applicants," she said.
"John has a unique way to advocate for and disseminate the positive effects of education when he speaks to students, both current and future ones," said George Zouridakis, associate dean for research and graduate studies at the College of Technology. "His work ethic, high professional standards, positive attitude, and ability to engage and connect with all people make a huge difference in his daily work."  
"He is a vibrant professional whose commitment to providing educational access and opportunity to underrepresented groups is unparalleled," added Anthony Ambler, dean of the College of Technology. "He continues to make strides as a leader in higher education with his involvement in professional organizations and by assisting those in the community that seek upward mobility through educational pursuits."
Expanding Opportunities
Despite the rapid changes that COVID-19 sprung on higher education, Smith said it also brought positive opportunities, with many more programs offered online.
With today's uncertain job market, Smith said now is the time to pursue an advanced degree. He noted that people with master's degrees typically make $10,000 to $15,000 more than those with a bachelor's.
"What you can do during this time is hone your skills," he said, "so when the market does pick back up, you're not only equipped to do the job you did the last time, but you're equipped to do a job on a higher level."
— By Natalie Thayer and Ericka Mellon
— Photos courtesy of John Smith