UH College of Education Celebrates Top Graduates for Spring 2019
Posted May 9, 2019 – Ask graduating students to reflect on their time at the University of Houston College of Education, and they'll mention supportive professors, classmates who became friends, invaluable internships and more.
They're also looking to the future – to jobs as educators, health specialists and leaders in their fields.
"No matter how many graduations I attend, I never get tired of shaking each graduate's hand," said College of Education Dean Bob McPherson. "I'm so proud of all our graduates and know they will go on to impact countless lives."
The College's spring 2019 commencement takes place today at 6 p.m. at Fertitta Center.
Before the ceremony, the College's five banner bearers – 4.0 students who will lead the graduation processional – shared their best memories from UH, their goals and their advice to future students.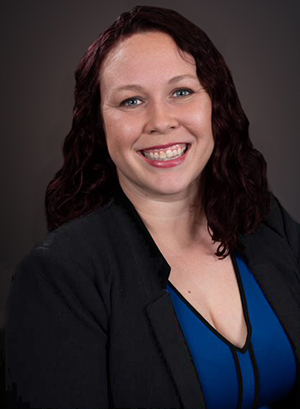 Jennifer Alvarado
Degree: M.Ed. in special populations; B.S. in teaching and Learning ('07)
Best memory from UH: I received my undergraduate degree from UH as well, so there have been many memorable moments. For this degree, my most memorable time was probably sitting down with Dr. Kristen Hassett to discuss my degree plan. She took the time to get to know me and help me figure out exactly what I should take so that I would get the most out of my classes and time at UH for my master's degree. I knew then that I was in the right place and that my professors really cared about me and my success.
Advice to future students: Take the time to get to know your professors and their individual expectations of you. The professors that grade the hardest and you are told to avoid are often the ones who provide the most insight and you can learn the most from, so don't skip out on their classes just because you're scared. You're here to learn and they will ensure that you do so.
Career plans after graduation: I currently own my own education consultation business so I'm going to continue consulting as I had prior to this degree while adding a few new extra services for my clients. I do plan to come back again in the future for my doctorate but am giving myself (and my family!) a little time off before starting that journey.
Favorite course you've taken: That's a tough question! I really have enjoyed all my courses that I have taken. If I had to choose just one, it would probably be Consultation and Coaching (PHLS 7391). It genuinely pertained to what I do for work and it gave me an opportunity to work with other students. Because my degree was pretty much all online, there weren't a ton of opportunities to collaborate with others either face to face or via Skype, so this class stood out in that regard. I'm thankful for the friends I made in that class and the advice given by Dr. Hassett.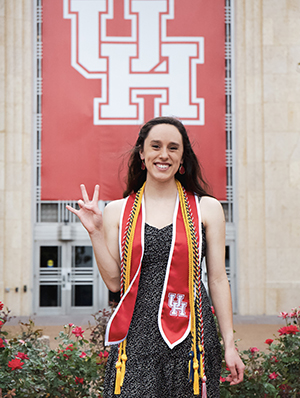 Hannah Fritsch
Degree: B.S. in human development and family studies
Advice to future students: Find time to volunteer or work in an area you are passionate about. School is important, but you will not have a clear idea of what you want to do with your life unless you get real experience. Houston is big. Go find something!
Career aspirations: After I get my Master of Arts in teaching and teaching certificate at Relay Graduate School of Education, I will be an elementary school teacher. I am also interested in eventually pursuing a certification or master's degree in special education. But I always hope to be involved in education in some way or another.
In 10 years… I see myself as an educational leader in the city of Houston developing curriculum that can educate and benefit students from all backgrounds and abilities. 
Great impact at UH: The senior-level internship course in the human development and family studies program has been the most impactful part of my experience at UH. I got to intern at The Rise School, an inclusive preschool for children with disabilities, where I got hands on experience in the teaching world.
Emily Hutsen
Degree: B.S. in teaching and learning (certification in math grades 4-8)
What you'll miss most about UH: I'll miss my cohort because over these last two years we have become a family. Despite each of us coming from different backgrounds, religions and races, we all share the same passion: being an impactful educator. We have helped each other through some of the most stressful times and have been able to be a backbone of support for each member. I am so thankful to have met lifelong friends through the College of Education.
Advice to future students: Make a point to get to know your classmates. Having friends who are going through the same process as you will help keep you sane. Find your "buddy" and stick with them. Group projects are not terrible if you find the people you work best with. Also, instead of complaining, try to use every frustrating situation as a learning experience. It will change your perspective and better prepare you for the real world.
Career plans after graduation: I will be teaching eighth-grade math in Cy-Fair ISD. I will be signing my contract after I receive my degree officially.
Favorite course you've taken: Differentiation with Dr. Jane Cooper. She had a great impact on me and who I will be as an educator. I now understand how important it is to differentiate and how easy it can be to keep every student in mind during the lesson planning process. Although the concepts in this course were more difficult than most, I truly believe this course has helped me become more innovative in my lesson planning. It has better prepared me to make sure my classroom is student centered when it comes to what and how I teach.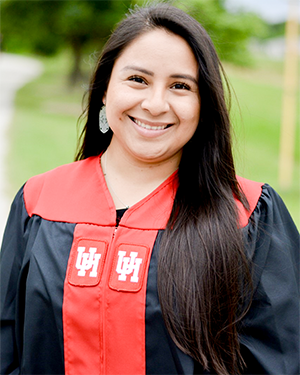 Lucila Martinez
Degree: M.Ed. in higher education; B.S. in teaching and learning ('15)
Best Memory from UH: Meeting my fellow classmates and collaborating with them throughout the course of our online degree. I was able to meet people from all around the United States.
Advice to future students: Ask questions! If you are ever unsure about anything, reach out to your professors. They want you to succeed and, if you stay quiet, you will miss out on what you could have learned if you had simply asked. 
Career goals after graduation: I would like to continue teaching at the elementary level for a few more years as I help my campus implement the AVID program. In a few years, I would like a position in which I can work with high school students or entering college freshmen to help them transition into the higher education setting.
Where do you see yourself in 10 years: I see myself having a family of my own and working with a program that helps students transition into higher education while also guiding them throughout their undergraduate years to help them reach their highest potential.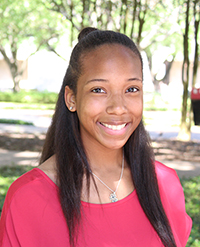 Kele Thompson
Degree: B.S. in health, with a specialization in public health
Best memory from UH: My best memory from UH is building a professional relationship with Dr. Kayce Solari Williams and Dr. Ken Ripperger-Suhler. My first year here at UH I took both of their classes and they have forever impacted me in the way they teach and really care for what they do. I fell more in love with the health profession and hungry to make a difference.
Advice to future students: My advice to future students is to follow your heart and dreams. Do not base your major solely on the amount of money you will make. Instead, base your major off of what fuels you and makes you happy. When you are happy doing what you do, the rest is easy!
Career aspirations: My career aspiration is to positively impact as many people as I can. I want a career where I am interacting with people directly and making that positive impact on them.
What do you plan to do after graduation?  After graduation, I plan to continue my job at Rockhopper Strong Fitness, where lives are being changed for the better. I also plan to enroll into graduate school in the spring of 2020.
–Compiled by Asia Jackson-Sublet