Award-winning UH Higher Ed Professor Rose Above Rescinded College Offer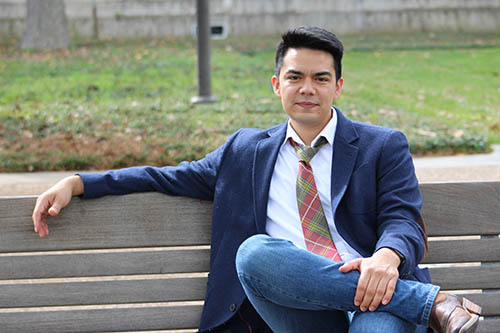 Assistant Professor Frank Fernandez recently won awards for his dissertation on Latinos in higher education and for a book about research universities that he co-edited.
Posted Nov. 15, 2017 – Frank Fernandez wasn't on the typical track to become a professor, especially not one winning awards early in his career.
Now an assistant professor of higher education at the University of Houston College of Education, he wasn't supposed to earn a master's degree from Stanford University or a Ph.D. from Penn State University. At least that's what some of his teachers and relatives thought.
In high school, Fernandez had been accepted into the University of California, Berkeley, the nation's top-rated public four-year university, but his offer was rescinded. Like many students, he didn't take his senior year as seriously as he should. He nearly failed Advanced Placement English. Never mind that his first language was Spanish, and he was bilingual.
Fernandez ended up at Imperial Valley College, a community college in the California desert about 15 miles north of Mexico. It was the same school his parents attended in the 1970s, when there were no tuition and fees to attend a California community college. It was the end of their educational journey.
"Senior year was tough, but community college was that second chance," Fernandez recalled of his own experience. "I couldn't go to Berkeley, but I could go to the local school and save some money."
"I was lucky enough to transfer to the University of San Diego," he continued. "But many of the students I knew just swirled in community college, sadly, for many, many years."
Fernandez earned a bachelor's of political science and international relations in 2010, five years after graduating high school. He went on to earn a master's in policy, organization and leadership studies from Stanford. While there, one of his professors marveled at how the higher education system had worked in his case. Fernandez wondered about it, too.
"Sometimes the system works great, and sometimes it just doesn't," Fernandez said. "Who does it work for, and who does it not? I decided to get a Ph.D. to study it."
'A compelling case'
After graduating with his Ph.D. in higher education from Penn State in May 2017, Fernandez joined the UH College of Education's growing team of higher ed professors in August. He recently received news that he won two awards, high praise for an emerging scholar in the field.
Fernandez's dissertation, "Doctoral Education of Latinas and Latinos in the United States," won first place in the 2018 Outstanding Dissertation Competition sponsored by the American Association of Hispanics in Higher Education and Educational Testing Service.
In addition, Fernandez and his co-editors received the 2017 Award for Significant Research from the Council for International Higher Education for their book, "The Century of Science: The Global Triumph of the Research University." The co-recipients, who started the project, were Justin J.W. Powell of the University of Luxembourg and David P. Baker of Penn State University.
As Fernandez knows from his own research, the odds were against him earning a doctoral degree. While Latinos made up nearly 17 percent of the U.S. population in 2011, they earned only 6.5 percent of research doctorates in 2014, he wrote in his dissertation.
His research looked in part at the role of Hispanic-Serving Institutions such as the University of Houston. HSIs have a special federal designation because at least 25 percent of their undergraduates are Hispanic. Fernandez found that social scientists who earned bachelor's degrees from HSIs went on to earn doctorates from less-research-intensive universities – which often are under-resourced and may not prepare graduates as well for the competitive faculty job market.
"The findings in this paper should be concerning for research and policy efforts that focus on increasing diversity among the nation's higher education faculty members," Fernandez wrote in his dissertation.
UH is one of the few HSIs that are designated as high research, or Tier One, universities by the Carnegie Foundation for the Advancement of Teaching.
Leticia Oseguera, associate professor and senior research associate at Penn State's Center for the Study of Higher Education, chaired Fernandez's dissertation committee. In a letter of support for the national award, she wrote that he presented "a new theoretical approach that allows us to take into account institutional type as a predictor of later attainment."
"Dr. Fernandez's work provides a compelling case for how Hispanic Serving Institutions contribute in the eventual production of Latina and Latino doctorates," she wrote. "I strongly support him for this award."
'An exciting place to do research'
Fernandez said he was drawn to Houston in part because of its robust higher education landscape – made up of community colleges, four-year universities, public and private schools, Hispanic-serving institutions and historically black universities.
"That makes it an exciting place to do research," Fernandez said.
Fernandez was one of four new professors to join the higher education faculty at the UH College of Education in fall 2017, along with Vincent Carales, Tiffany J. Davis and Elsa Gonzalez. The expansion of the faculty marks a significant step since the College launched a Ph.D. in higher education leadership and policy studies in 2015. The College also offers an M.Ed. in higher education.
"I'm thrilled that Frank's work has been recognized by two phenomenal organizations," said Cathy Horn, acting chair of the College's Department of Educational Leadership and Policy Studies and a professor of higher education. "His research reflects exactly the commitment of the full higher education program – to produce rigorous scholarship that addresses some of the most critical questions for higher education today."
'The way of the future'
Fernandez's book project, completed with his colleagues at University of Luxembourg and Penn State, focuses on how universities across the world take the lead in producing research in science, technology, engineering, math and health fields in the 21st century. Fernandez was a co-editor and wrote the chapter on the United States.
"In the '90s there was this idea that universities were these bureaucratic, lumbering organizations that wouldn't be able to adapt in the 21st century and that companies were going to end up leading STEM innovation and research," Fernandez said. "And we found that's not really the case."
"Universities are nimble," he said. "Sometimes they partner with corporations, but faculty and researchers affiliated with universities author or co-author more than 75 percent of scholarly publications in STEM and health fields.
"These doom-and-gloom people who say universities are the way of the past and industry is the way of the future – that's not really true. Universities are the way of the future and are still worthy of public investment."
The research approach in the book involved piecing together 100 years of publication data – comparing publications across different countries and time periods. The researchers looked at the number of publications as well as the quality.
In the award announcement, Blanca Torres-Olave, chair of the Council for International Higher Education's Research Award Committee, said members were impressed by the longitudinal scope, the rigorous econometric methods and the global analysis used.
"The combination of these elements makes the volume truly innovative, and holds great potential to serve as a model for future research," she wrote.
With his parents still in the southern California desert, Fernandez said he ordered an extra copy of the book to send them.
"I did not expect to end up in Texas, but I'm happy I did."
–By Ericka Mellon
–Photo by Jaime Questell