Listen and Learn: UH Professor Launches Podcast on Careers in Human Development and Family Studies
Posted Aug. 12, 2020 — When COVID-19 forced people to quarantine, some spent the hours at home binge-watching TV. University of Houston College of Education professor Erica Jordan used the time to create a podcast she'd envisioned for years.
A clinical assistant professor of human development and family studies, she's passionate about helping students understand the career possibilities in this little known but high-impact field. For The HDFS Careers Podcast, Jordan interviews professionals working in the field locally and across the country, learning not only about their jobs but about their personal journeys. Her guests have included a marriage and family therapist, an advocate for children in foster care, a specialist working with survivors of domestic violence, among others.
Learn more about Jordan and the podcast in the Q&A below.
Could you explain what human development and family studies is, for those who aren't fully aware of the program? (Editor's Note: The College of Education offers a B.S. and a B.A. in HDFS.)
Human development and family studies is a field that focuses on the many ways in which people change throughout their lives and the ways in which people interact with each other and within society.
Your bachelor's degree was in journalism. How did you end up in human development and family studies?
A college friend once suggested I check it out because of my fascination with family interactions. I completely brushed off the idea because I had never heard of the major and didn't know what you could do with it. During my junior year of college, though, I took an awesome interpersonal communication course. From that point, I was hooked and decided to pursue a graduate degree in HDFS.
Has your journalism background helped you in launching the podcast?
I use nonlinear editing software that is very similar to what I used in my college classes. However, the tone of the podcast episodes is much more casual, and the editing is much less polished.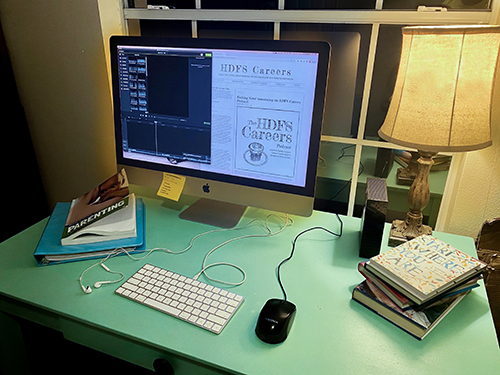 What's your setup like?
My setup is nomadic. I have recorded all over the house, depending on what's happening at home. I simply use my basic iPhone headphones plugged into my computer. The easier the setup, the more interviews I can collect.
Has it been a challenge working from home?
My husband and I are both working from home with our nearly 2-year-old daughter. It is a challenge for sure, but I am enjoying the extra time together. Positive, supportive relationships are associated with resilience in children and adults alike, so it's a good reminder to myself to strive to prioritize relationships as much as I can as we move through this challenging time.
What made you want to be a professor and what do you love most about it?
I love learning, and I love sharing information with people who want to learn. Undergraduate education is particularly exciting for me because of the potential to share research-informed theory and practice with so many future professionals and community members who can then go on to share it with people in their daily lives. Students form a critical bridge between academic research and real-world application.
How have HDFS specialists played a role during this pandemic?
Some are continuing to provide services for some of the most vulnerable individuals in our society, adapting their various family services so that people have access to them while social distancing. Former challenges haven't disappeared during this pandemic. They have been magnified, and HDFS professionals have been flexible and adaptable to continue to improve the lives of individuals, families and communities.
— By Alberto Huichapa
— Photos courtesy of Erica Jordan