UH College of Education Alum Supports Diversity at Juilliard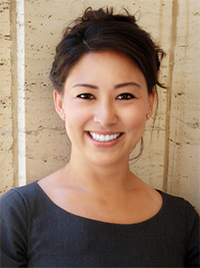 Posted February 11, 2019 – While pursuing her bachelor's degree in English at Texas A&M University, Cory Owen spent most of her free time in the library, reading books for pleasure.
Little did she know how much those hours would shape her life.
"I accidentally fell in love with education and I didn't want to distance myself from the campus environment," said Owen, who went on to earn an Ed.D. in higher education administration from the University of Houston College of Education in 2015.
Owen is now serving in her fifth year as assistant dean of international advisement and diversity initiatives at Juilliard, the world-famous performing arts school in New York City.
"Juilliard is so different than other academic programs I have worked for, but students are students," she said. "They are wonderful, committed to learning their craft and excelling in everything they do."
Owen's responsibilities include overseeing international students, who make up 30 percent of Juilliard's population. She helps students with their visas, connects them with resources, whatever they need. She also is in charge of working with traveling faculty members and lecturers and organizes diversity training programs.
"Whether it be immigration concerns, tax questions, discriminatory incidents or just a friendly conversation, I want to get to know these students on a personal level and help them develop as students, student leaders and art leaders of the world," Owen said.
'Everything changed'
The daughter of immigrants, Owen grew up in Anchorage, Alaska. Her parents – her father from Peru, her mother from Korea – owned a government contracting company that provided various services, including sanitation, construction and hazardous waste removal.
Owen would watch her parents leave for work at night and return every morning to take her to school. Their dedication motivated her to study hard. As a child, she aspired to be an attorney, always wanting to start and win arguments.
When Owen left Alaska for Texas in 2001, she saw a different world.
"There was definitely culture shock," she said. "I became very aware of my identity as a minority. I would walk into a room and usually be the only, or one of few, women or individuals of color."
"It's changed my perspective in the identities I am aware of," she said. "I've definitely been in situations where I am an Asian woman and [people assume] I will be quiet and docile, and that's not necessarily the truth. It's been interesting to see how my own personal identities interact with my work, relationships and how I act."
Soon after earning her bachelor's in 2005, Owen landed a job at A&M that would provide her with her first insights into international education and student affairs.
"I basically got to travel the world without leaving my desk," Owen said.
After pursuing a master's in literature at UH-Clear Lake, she was unsure where she wanted to go next. She knew she somehow wanted to be involved in higher education but couldn't decide between pursuing a career in faculty or administration. She already had held staff positions at Rice University and The University of Texas Medical Branch.
Owen ultimately decided to pursue her doctorate at UH.
"Everything changed from there," she said.
'I am where I am'
Owen recalls fond memories of dinners hosted by Professor Emeritus Alexander Schilt, a former chancellor of the UH system. He provided administrative insights and feedback while establishing a sense of community and friendship among the student cohort, she said.
"Because of Dr. Schilt's incentive to support each other and providing us with that cohort experience, it really leads me to believe that's why our entire cohort graduated," she said. "You don't always get that in an academic program. Faculty really care and they made us feel important. As a result, I am where I am now."
Owen's dissertation focused on how Asian-American students manage stress and anxiety in college – aiming to improve the experience for this often under-looked minority.
"Understanding how students perceive their college experience through the lens of race will help re-emphasize the uniqueness of the Asian American student experience," Owen wrote.
Today, in her role at Juilliard, Owen gets to help the diverse group of students – representing more than 40 countries – feel comfortable.
"I can't think of a better individual to lead diversity and inclusion efforts in higher education," said UH College of Education Professor Lyle McKinney, who oversees the higher education Ph.D. program. "Cory brings a global and equity-minded perspective to all aspects of work."
In her free time, Owen works out at CrossFit, reads, plays video games and plays in a dart league.
"I think most people are surprised when they find out I play darts," she said. "It's not a common sport in the U.S. In Houston, I was part of the Harris County Darts Association Board of Directors. We would run $20,000 tournaments. I would be on the microphone calling out the boards and giving out prizes."
Owen also is working up the courage to take evening classes and play the piano again.
"I played the piano for 10 years and I used to say that I had an arts background until I started working here," she said of Juilliard. "Now, I am embarrassed to even say I've played compared to these students. They're so talented. It's an added benefit of my job: being able to go to their performances and see the artistic side of them and be blown away by their talent."
–By Alberto Huichapa
–Photo courtesy of Cory Owen