Staff Spotlight: First-Generation College Graduate Keeps on Learning in Finance Role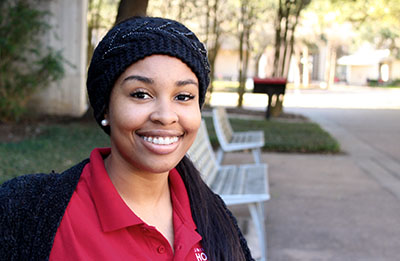 Posted Jan. 15, 2019 – Though she stays busy logging data into spreadsheets, finance assistant Brandii Roquemore never hesitates to help when faculty, staff or students stop by the dean's office in the University of Houston College of Education.
Roquemore, who joined the College over the summer, helps keep purchases and reimbursements on track while fielding countless questions from the front desk or offering a smile when a visitor just wants a treat from the candy bowl.
A Houston native, Roquemore spent her college years at the University of Texas at Arlington. She was a member of the Delta Sigma Pi business fraternity and the Accounting Society. She also won the UTA Student Employee Award for 2016 and 2017. A first-generation college graduate, she earned a bachelor's in finance in May 2018 and then returned to Houston to be closer to family.
Roquemore recently took a break to answer some questions.
Q: What do you love most about your job?
A: I get to learn new things every day. My managers are very nice and open to letting me learn these new things so I won't have a repetitive day each day.
Q: How would you compare UH to UTA?
A: The campus here is much bigger and a lot prettier, and UTA really didn't have a college-town vibe to it.
Q: How would you describe the sense of community at UH?  
A: Everyone here is very nice and welcoming. I've never had a bad experience with any another staff or faculty. When I randomly walk on campus, people openly speak to me.
Q: How would you describe your family?
A: I'd say I grew up in a pretty normal household. My parents pushed me really hard while I was in school, and it paid off. I'm the first in my family to graduate from college, and I really appreciate my parents for their support.       
Q: What are some challenges you have overcome? 
A: Graduating college. High school came easy to me, and when I got to college, I realized it wasn't that easy. There were times where I wanted to stop going to school and find a job, but I finally got the hang of it and finished.
Q: Besides work, what else are you currently working on?
A: I'm working on my master's in finance at the University of Houston-Downtown.
Q: How do enjoy your free time? 
A: I normally listen to R&B and hip-hop, go shopping or hang out with my family.
Q: Favorite TV show?
A: "Law and Order: Special Victims Unit"
–By Alberto Huichapa
–Photos by Jaime Questell