Staff Spotlight: Graduate Advisor Knows What Her Students Are Going Through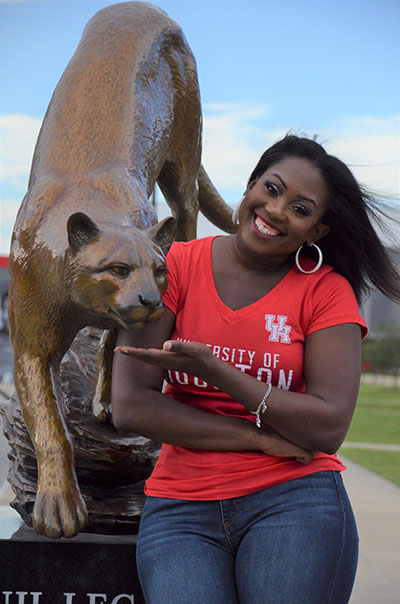 Posted March 19, 2019 – When academic advisor Britney Ikner talks with graduate students at the University of Houston College of Education, she can relate.
In fact, she recently was one of them. Ikner graduated from the College in December with a master's degree in higher education.
"The great part about my role is that I have had the same experiences as my students," said Ikner, who has worked for the College's Office of Graduate Studies for five years and now serves as a graduate program administrator.
An Austin native who lived in Germany for nine years, Ikner has made Houston home since 2000. Inspired by her family's support, she said she's eager to help students feel the same sense of accomplishment upon graduation.
Ikner recently answered a few questions.
Q: What do you like about working with this group of students?
A: I think graduate students are so interesting to work with because they are all in such different places in their lives. Some are fresh out of undergrad, others are just diving into their careers, and most have been professionals in their fields for many years.
Q: What is a typical work day like for you?
A: A typical work day starts with me taking note of items that need to be done for the day and/or week. Then, I follow with email and returning voicemails. Peak times (e.g. admissions processing and enrollment) can get pretty busy; therefore, I have to stick to a strict schedule during the week.
Q: What is the most challenging part about your job?
A: The most challenging part of my job is trying to be there for every single student all the time. Unfortunately, there is sometimes not enough time in the day, but I do my very best.
Q: What are common questions you receive?
A: Am I ready to graduate? How many courses do I have left? What classes do I take?
Q: What is the most exciting thing about your job?
A: The most exciting part about my job is meeting my students face to face and engaging with them via phone or through email. I enjoy building those relationships. 
Q: What do you do in your spare time?
A: Right now I am planning my wedding. But normally I like to volunteer, dance, read and spend as much time with my family as I can.
Q: Other tidbits you want to share?
A: I received my undergraduate degree from Stephen F. Austin State University in child and family development with a minor in dance. Everyone – students, faculty and other staff members – knows that I love Wonder Woman and am not shy about it at all! I have four dogs (a Siberian Husky, a German Shepherd and their two daughters). My nickname is 25 tabs. I am a serial multitasker. I can't sit still.
–By Asia Jackson-Sublet
–Photo by Bridgette Jones