Student Spotlight: Ayo Shofoluwe Has Global Goals as a Philanthropist and Future Teacher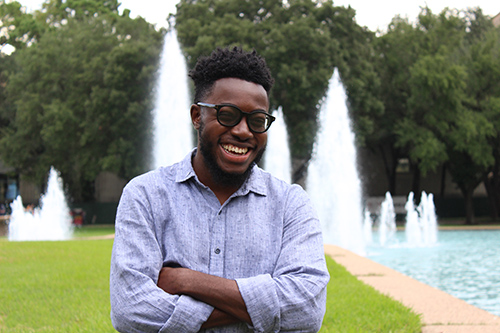 Ayo Shofoluwe
Posted Sept. 20, 2018 – Initially an engineering major, Ayo Shofoluwe followed his heart to the University of Houston College of Education.
The Baton Rouge native, set to graduate in December with a teaching degree, hasn't looked back since. With a passion for helping others others, he's stayed busy on campus and off.
The ambitious senior has served as a senator representing the College of Education in the UH Student Government Association. He created Cougar Combat-Do – a spin on Tae Kwon Do – to get students trained to defend themselves. And in 2016 he established the first U.S. chapter of Impact Leaders, a UH club devoted to purpose-driven leadership. He was inspired by an internship he completed through the Nigeria-based group Impact Your World. 
In addition, the trained pianist heads a band, PeaceXPiece, which also fronts as a philanthropic organization. Influenced by the care he received as a patient at Texas Children's Hospital, Shofoluwe and the band partnered with the hospital to host an event this year that drew more than 100 people and raised $1,500. The budding philanthropist plans to hold the event annually, with the focus next year on suicide awareness and prevention.
Shofoluwe took a break recently to answer some questions.
Q: Why did you choose UH?
A: The diversity of the campus attracted me. I enjoy the sense of pride and community that is obvious when you're on campus.
Q: What course impacted you the most?
A: The social education course, which deals with the social aspect of students in their environments. I really gravitated toward that class because it's about more than what happens in the classroom. [Students are] coming from different backgrounds that influence the way they act.
Q: What is your career goal?
A: I'd like to teach social studies to students up to sixth grade. I would like the opportunity to teach in Nigeria.
Q: How has the College of Education assisted in your personal or professional growth?
A: Personally I've had the opportunity to strengthen time-management skills. Professionally I appreciate the opportunity to work with people of varied backgrounds and experiences. This has allowed me to become more diplomatic in my communication with others and to foster stronger relationships.
Q: What's your favorite UH hangout?
A: Student Center North – I enjoy being near the Center for Student Media. I appreciate the creativity that flows in that space.
Q: What's your favorite Houston hangout?
A: The Engine Room and Montrose are two of my favorites. 
–By Dianca Chase
–Photo by Jaime Questell