Student Spotlight: Doctoral Student Addresses Disparities in Mental Health Services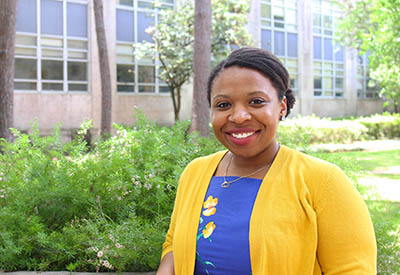 Posted May 29, 2019 – Growing up as a minority in rural Missouri, Ashley Ramclam saw peers and family members suffer, not receiving the mental health services they needed.
"I can recall overt and subtle acts of racism that, when coupled with limited access to culturally responsive care and the stigma of mental health, resulted in many unmet needs," said Ramclam, now a school psychology student at the University of Houston College of Education. "The system left some so vulnerable that they became textbook examples of the school-to-prison pipeline."
The experiences set Ramclam on a mission to address disparities in mental and behavioral health services that impact ethnic minority youth. She's developed a particular interest in helping students of color with autism spectrum disorder.
"Research reveals that ethnic minority students are less likely to receive an autism diagnosis even when it's there," she said. "They are often misdiagnosed as having emotional disturbance or behaviorally challenged, but they actually have autism."
Ramclam serves on the advisory board of the landmark autism research project known as SPARK (or Simons Foundation Powering Autism Research for Knowledge) through The Autism Center at Baylor College of Medicine/Texas Children's Hospital, where she consults on recruiting African American participants, conducts community outreach and presents psychoeducational seminars.
Although she initially focused on child psychology, Ramclam found that school psychology allowed for more interaction with children, families and teachers – "all of these important systems that impact the child," she said.
Ramclam earned a B.A. in psychology and an M.Ed./Ed.S. in school psychology from the University of Missouri before moving to Houston for an internship. She worked as a licensed specialist in school psychology in the Fort Bend Independent School District for three years before enrolling at UH.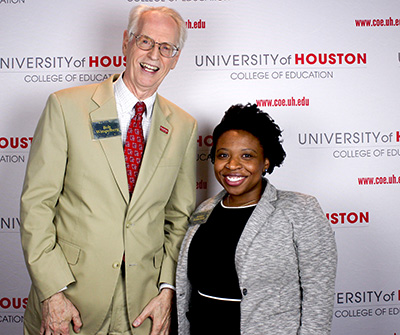 Throughout the Ph.D. program, Ramclam has tailored her experiences to include both generalist and specialist training, preparing for a career focused on culturally sensitive assessments and intervention services.
"Many families of color visit a pediatrician regarding mental and behavioral issues," she said. "School psychology is rewarding because it allows the opportunity to provide more family-oriented service. An autism diagnosis can be a tough pill to swallow."
The cultural and ethnic diversity in Houston – as well as UH's recognition as the most diverse public research institution in the nation – contributed to Ramclam's decision to remain local for a doctoral program.
"The school psychology program at UH has continued to evolve and is responsive to the needs of the diverse student body," she said. "I would encourage anyone interested in the program to reach out to current students and faculty. And for those interested in graduate school in general, I encourage them to find a place where their voice, passion and work ethic is well-represented and respected."
In April, Ramclam was honored as the Helen and Melvin Wimpelberg Endowed Scholarship recipient for 2019-20. She met the scholarship donor, former College of Education dean and Professor Emeritus Bob Wimpelberg, at the College's recent Star Awards event.
"For me, this scholarship represents freedom and security," Ramclam said. "I am thankful for Dr. Wimpelberg's generosity, and that he saw fit to fund a COE scholarship. I am extremely grateful and humbled to be a scholarship recipient."
This summer Ramclam will join three classmates and Associate Professor Milena Keller-Margulis on a trip to Mexico for an internship immersion program. The group, supported by a grant from the American Psychological Association of Graduate Students, will work to identify mental health and behavior issues and provide recommendations to educators and school administrators.
Ramclam also will have the opportunity to improve her Spanish skills – helping her provide more culturally responsive care in Houston.
Scholarship donor and Professor Emeritus Bob Wimpelberg:
"I started the Helen and Melvin Wimpelberg Endowed Scholarship as a tribute to my parents who were so tuned into my education and proud that I had staked out a career in the field. Over the past few years I have met the Wimpelberg scholarship recipients. They are rock stars – so bright and dedicated! These students confirm my decision to create the scholarship in the first place. More important, they bolster my conviction that investing in UH College of Education students is the best investment in the future of Houston."
–By Dianca Chase
–Photos by Jaime Questell