Senior Spotlight: From Business to Teaching, Asmara Mengisteab Found Her Calling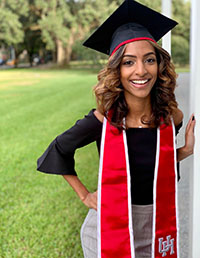 Posted December 13, 2018 – Graduating senior Asmara Mengisteab comes from a long line of Coogs. Although she started college at the The University of Texas at San Antonio, she found her way to the University of Houston College of Education and hasn't looked back.
Mengisteab, a teaching major, thanked professor Suzanne DaVanon for helping her fall in love with literacy and language arts. DaVanon challenges her students to read plenty of literature and teaches them how to assess their students' reading, she said. Professor Justin Burris also made an impact by helping her learn new ways to teach math to elementary students, she said. He explained the importance of having a growth mindset and developing relationships with students.
Before graduating Friday, Mengisteab took time to answer some questions.
Q: What is your inspiration?
A: My parents and their story inspires me most. They fought in the Eritrean War [in Ethiopia] for seven years before traveling to America in the '80s. They came to America as refugees and sacrificed so much to create a new life in America. They did all they could to ensure their three kids would be successful and graduate college, and I am the last one to do it.
Q: Has anything or anyone impacted you since being at UH? 
A: My friends in my cohort and my professors in the College of Education. Without their continuous support and encouragement, I would not have made it thus far.  
Q: Why did you choose to major in teaching?
A: I chose to seek a degree in teaching and learning because I knew my whole life that I wanted to work with young people. I just didn't know in what capacity or how I'd get there. After being a business major for three years, I chose to take a risk and pursue my passion in teaching. It has been the most rewarding decision I've ever made at UH.
Q: What are some of your favorite hobbies? 
A: I love to write, sing/record music, decorate, travel, read, online shop and watch movies.
Q: What is your favorite thing to do in Houston? 
A: Find new coffee shops and try their coffee while blogging. 
Q: Any interesting facts about yourself? 
A: I absolutely love to write so publishing a book would be a dream. I also love to write music so creating a musical album is on my bucket list as well. When I retire, I want to open a small flower shop.
Q: What advice can you give other students seeking a teaching degree? 
A: Enjoy the process and journey as much as you can. It is not guaranteed that you will be surrounded by passionate colleagues with the same aspirations and goals the way you are at UH. It will all be worth it at the end, and every time you feel like giving up, remind yourself who you do it for: the children.
–Story by Asia Jackson-Sublet
–Photo courtesy of Asmara Mengisteab