The University of Houston College of Liberal Arts and Social Sciences (CLASS) is proud to congratulate three summa cum laude graduates in the Class of 2021, each of whom achieved a 4.0 GPA throughout their undergraduate studies. Although Arden Alldredge, Barbara Lomeli Ibarra and Briana Johnson each dealt with unique hardships (first-generation college attendance, language barriers and the death of a loved one, respectively) on their paths to academic excellence, these high achievers believe the challenges they faced in college have made them more resilient in navigating life's rugged terrain. Today, they emerge triumphant, determined to claim a brighter future for themselves and their families.
The three will be recognized during the 2021 CLASS Spring and Summer commencement ceremony on Thursday, May 13 at 7 p.m. at TDECU Stadium.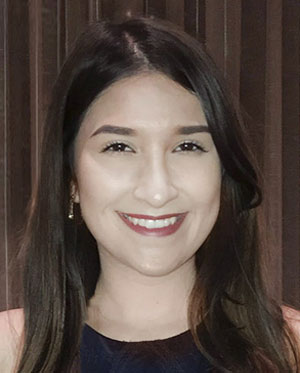 Arden Alldredge
Major: Communication Sciences and Disorders
Hometown: Jones Creek, Texas
Arden Alldredge, a first-generation college student, once saw college as an unattainable goal. Not having any family members who could share their college experiences left her questioning if she would ever enter college.
"I wasn't even sure if I wanted to go to a university or where I would go; it wasn't something my family ever really talked to me about. I didn't even know how to apply," said Alldredge. "I had a lot of difficulties navigating; there were many times that I felt confused and unsure of myself and the decisions I was making. However, I was able to thrive during these past few years, and I am grateful that I have been able to challenge myself."
Alldredge chose COMD as a major because she wants to help others overcome barriers in communication. After graduation, she plans to further her education at UH by pursuing a Master of Arts in COMD in the hopes of becoming a speech-language pathologist.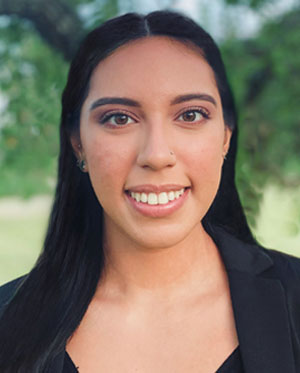 Barbara Lomeli Ibarra
Major: Psychology
Hometown: Coahuila, Mexico
When Barbara Lomeli Ibarra was a young child, she and her mother moved to the United States in search of better opportunities and a strong education. After earning her associate degree while still in high school, Lomeli Ibarra is now a 4.0 graduate whose love of learning has continued to grow.
"It was challenging to assimilate into a new culture and learn a new language, but I was motivated by the sacrifices my mother made for both of us," Lomeli Ibarra said. "I am extremely proud of being an immigrant, and I continue to embrace my Mexican culture.
My mother always talked about the importance of going to college. With the endless support of my family, I've always tried to make them proud through my education. The University of Houston has given me amazing opportunities and the education I need to continue my life journey."
Lomeli Ibarra will be joining the Psychological, Health, & Learning Sciences department in the College of Education. She plans to pursue a career as a clinical mental health counselor working with women of color and the LGBTQ community.
Briana Johnson
Major: Psychology
Hometown: Grand Blanc, Michigan
By the time Briana Johnson began her college career, she had already grown accustomed to hard work. Growing up in a family of seven children, she realized she would need to fund her education on her own. Inspired by the memory of her grandparents, Johnson began her first job at age 16 and later carried her strong work ethic into academic life.
"It was a sacrifice I had to make," Johnson said. "I have used my grandparents as motivation, because education was important to them. When we lose someone important to us, we never really get over it, but we learn to continue living. I know they would be proud to see where I am now."
Johnson chose psychology as her major after taking AP psychology in high school. She was drawn to the diversity of the field and the potential to apply psychological research to a variety of other disciplines. As she prepares to begin a career in a field where there is still so much new knowledge to uncover, Johnson's drive and dedication will serve her well.