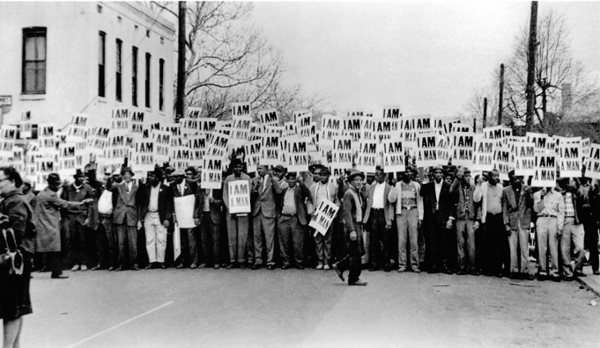 Photo courtesy of the Withers Collection
The works of renowned photojournalist Ernest C. Withers (1922-2007), who captured the progression of anti-racism protests, marches and activism throughout the United States, will be on view at the University of Houston M.D. Anderson Library. "I AM A MAN" opens to the public Sunday, Oct. 20 through Sunday, Nov. 3.
"This exhibit will bring the history of the civil rights movement to the UH campus, reigniting conversations that are just as important today as they were when the photographs were taken," said Antonio D. Tillis, dean of the UH College of Liberal Arts and Social Sciences. "I am pleased that Rosalind Withers, daughter of Ernest Withers, will be on campus to share her perspective with students, faculty, staff, and community members."
"I AM A MAN" begins in the late 1950s, with images of the NAACP Main Street protests. These demonstrations were focused on securing jobs in department stores for African Americans beyond janitorial positions; many stores were happy to profit by selling to African Americans but denied them opportunities to work there. It moves through the 1960s with images of James Meredith's efforts to integrate the University of Mississippi and his ensuing March Against Fear. The exhibit continues with coverage of Martin Luther King Jr.'s final march in support of the Memphis sanitation workers' strike and closes with various gatherings held in King's honor after his assassination.
"My father's work covers pivotal moments in history, and it has flourished globally in the 12 years since his death," said Rosalind Withers, founder of the Withers Collection Museum and Gallery and Trustee of the Withers Family Trust. "It is important to look back on history because it reflects the injustice we see today. It can help us amplify the efforts of those brave individuals who gave so much to create a better future for all of us."
Withers is set apart from others who captured the civil rights movement by the intimacy and artistic eye apparent in his images. He is also known for his photographs of iconic musicians, athletes, and U.S. presidents. Withers was dedicated to capturing the lifestyles of African Americans living in Memphis throughout his life and career.
"This exhibit should please history buffs and art lovers equally," said Tillis. "It puts on display the beauty and neglect for others that were paradoxically wrapped up in the beginning of the struggle we still engage in today. Our university is the second-most ethnically diverse in the United States, with students coming to UH from more than 137 nations across the world. This exhibit will provide students and the general public an opportunity to learn, thought the art of photography, the history, and impact of the civil rights struggle."
What: "I AM A MAN" exhibition by photojournalist Ernest C. Withers
When: Sunday, Oct. 20- Sunday, Nov. 3
Mondays - Friday: 6 a.m.- 9 p.m.
Saturday: 8 a.m.- 7:45 p.m.
Sunday: 10 a.m.- 9 p.m.
Where: M.D. Anderson Library, 2nd Floor Red Wing, 4333 University Dr., Houston, TX 77204
The exhibit is free and open to the public.