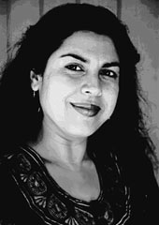 The UH College of Liberal Arts and Social Sciences (CLASS) is pleased to announce that Professor Chitra Banerjee Divakaruni of the Department of English will be honored at the inaugural Houston Literary Awards. The Houston Public Library Foundation selected Divakaruni as one of five local writers to be recognized for their engaging, entertaining literary works that deepen readers' understanding of themselves and the world around them. The author of 18 books, Divakaruni published her latest novel, "The Forest of Enchantments," in 2019.
"Professor Divakaruni's success is good for all of us. Her status as a beloved local author helps to make the Department of English and the Creative Writing Program sources of pride for our city," said Professor Ann Christensen, chair of the Department of English. "Although this is a Houston-based award, she has inspired countless UH students through the global reach of her work. Professor Divakaruni always mentions our programs during her speaking engagements, heightening awareness of our excellence and achievements."
Divakaruni's works have been translated into 29 languages, and her prior accolades include the American Book Award and the Italian Premio Scanno (colloquially known as the "Italian Nobel"). The Economic Times nicknamed her "the diva of the diaspora" in a 2015 feature that highlighted 15 Indian women making an impact around the world. Her 1997 novel, "Mistress of Spices," was adapted into a feature film starring Bollywood icon Aishwarya Rai.
Divakaruni will be formally honored at the Houston Literary Awards Gala on Saturday, October 19.