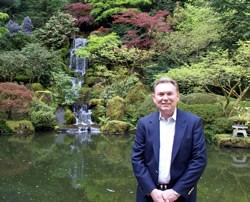 "I am deeply saddened to announce that Political Science Professor Emeritus Harrell Ross Rodgers, Jr. has transitioned," said Antonio D. Tillis, dean of College of Liberal Arts and Social Sciences and M.D. Anderson Professor in Hispanic Studies. "A valued member of the UH community for over three decades, Professor Rogers will be deeply missed by his students and colleagues."
Harrell Ross Rodgers, Jr. born August 25, 1939 lost his courageous struggle with cancer on May 3, 2019.
Professor Harrell joined the political science department in 1975 and retired in 2013.  During his time at UH he served twice as department chair and served for ten years as Dean of College of Social Sciences.
Harrell was a prolific scholar, and was the author, coauthor or editor of 25 books and numerous peer-review academic papers.  His name is memorialized as the founder and a generous contributor to The Harrell Rodgers Travel Scholarship which supports graduate student travel to attend the meetings of the Midwest Political Science Association.
He regularly lectured at Universities in Europe and Asia and made numerous presentations at professional conferences.  He consulted with the Chinese government and numerous Chinese universities over twenty years and made many lifelong Chinese friends. Harrell was a world traveler and an avid mountain hiker and nature lover.