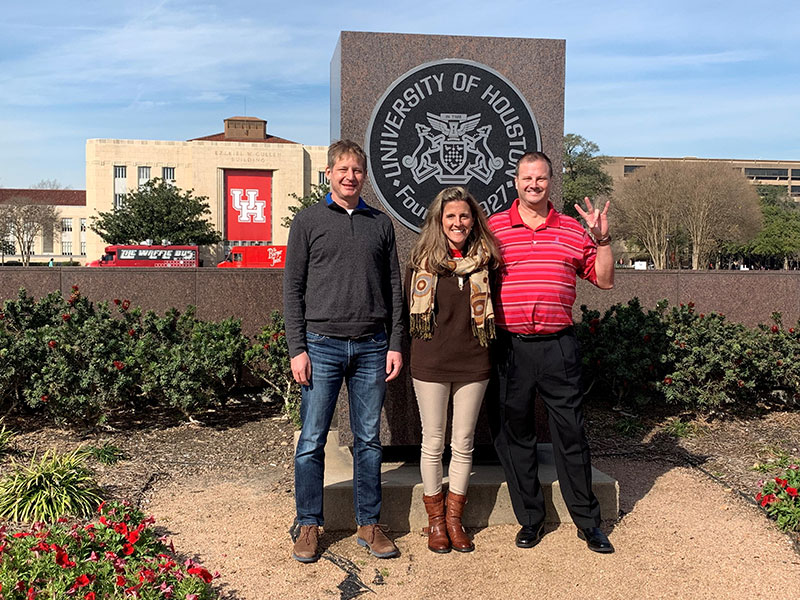 Photo: Associate professor of Philosophy Dr. Tamler Sommers with donors
Helena and David Seiver.
Passionate philanthropists David Seiver (UH '95, UH M.S. '97) and Helena Seiver (UH M.S. '00, M.B.A. '00) have funded scholarships for more than a decade. Their latest gift was inspired by a University of Houston (UH) associate professor with a podcast.
Once fully funded, the David and Helena Seiver Very Bad Wizards Scholarship Endowment in Philosophy will award scholarships to admitted or current graduate students majoring in Philosophy in the UH College of Liberal Arts and Social Sciences. "Education is important and at the same time, financially challenging for many students. We are happy to do this for the students," said David.
Consistently ranked nationally as a top terminal M.A. program by the Philosophical Gourmet Report, the endowment will help fuel recruiting and retention efforts for the Department. "We are very excited by this generous gift to our nationally recognized graduate program; this kind of support makes a big difference to the lives of our students," said Dr. David Phillips, professor and chair of the UH Department of Philosophy.
Very Bad Wizards is a collaborative podcast between associate professor of Philosophy, Dr. Tamler Sommers (UH) and David Pizarro, a psychologist at Cornell. Their episodes feature informal discussions of issues in ethics, moral psychology, neuroscience, pop culture, campus politics, and more. "We are honored to have the opportunity to reach so many people outside academia with our podcast. David is a long-time listener, and I am so grateful to him and Helena for supporting our graduate program," said Dr. Sommers.
"We both love educational podcasts, and I particularly am drawn to podcasts with a philosophical bent. I can't recall exactly how I found VBW, but once I found it I was hooked. We are proud to be the first of hopefully many podcast-inspired donors and hope this can be a recurring effort," said David.
For the Seivers, attending UH is a family affair. David earned undergraduate and graduate degrees in chemical engineering and his wife Helena earned graduate degrees in both business and industrial engineering. David's late father, John Richard Seiver, also attended UH, inspiring a scholarship endowment in his wife's (David's mother) honor at the Cullen College of Engineering. In addition to UH, David and Helena have established endowed scholarships at two other universities.
The Seivers credit their academic experiences at UH for preparing them for rewarding and longstanding careers in the energy and industrial gases sectors. Both licensed professional engineers in the State of Texas, David is currently director of Advanced Process Control Technology for Valero Energy Corporation while Helena is a strategic account manager for Air Liquide. "UH is an excellent place to study to become a chemical engineer largely because of its proximity to the largest pool of petrochemical engineers in the world," said David.
To support the Philosophy department at UH, visit:  http://www.uh.edu/class/philosophy/giving/