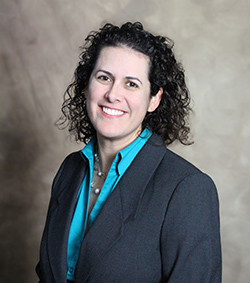 Assistant Professor of Health and Human Performance Melissa Markofski is on a research team that has received a four-year, $1.3 million grant from the National Cancer Institute. Markofski is part of a collaborative effort between the University of Houston and MD Anderson Cancer Center that has empowered researchers to investigate and address disproportionately high rates of prostate cancer in African American and Hispanic men.
"The grant will help us to evaluate the effects of nutrition and exercise lifestyle interventions on skeletal muscle strength, skeletal muscle function, and risk factors for secondary chronic diseases in black and Hispanic men with early-stage prostate cancer," Markofski said. "These men are not candidates to begin cancer treatments and are in a 'watchful waiting' phase of care. My grant is an addition to a pilot project focused on reducing stress among these men and their partners. Our combined work is important because it may provide insights into the prevention of cancer, diabetes, and cardiovascular disease in this vulnerable group."
In recent years, racial disparities in the prevalence and severity of cancer have begun to receive more scrutiny from the medical community. Markofski hopes the team's efforts will lead to more effective interventions against prostate cancer.
"Black men develop prostate cancer at a younger age, have higher mortality from prostate cancer, and seem to be more likely to develop an aggressive form of prostate cancer relative to men of other races," Markofski said. "Additionally, research suggests that Hispanics are more vulnerable to emotional distress from a cancer diagnosis and are more likely to be diagnosed during the later stages of cancer. We are aiming to address these disparities through stress-reducing, health-inducing lifestyle interventions comprising exercise and nutrition counseling."