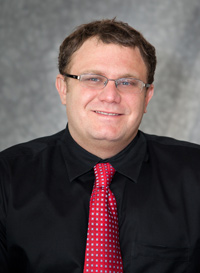 The UH College of Liberal Arts and Social Sciences (CLASS) is pleased to announce that Adaptive Athletics at UH has received a 2019 United States Tennis Association (USTA) Wheelchair Tennis Grassroots Grant in the amount of $3,000. Under the direction of Michael Cottingham, associate professor of health and human performance, Adaptive Athletics at UH has developed one of the largest and most active wheelchair tennis programs in the United States. With the help of the grant, Cottingham aims to grow UH wheelchair tennis into one of the top three programs nationwide.
"We have a philosophy that anyone with a disability can participate in our programs, and we support anyone competing under our umbrella," Cottingham said. "We want to involve UH students, but we also work with students in GED programs, ESL programs, and community colleges. Fewer than one in five wheelchair users are employed, but among wheelchair users who play a sport, that number jumps to 64 percent. So we really try to fuse athletics, academics, and employment together in this program."
Adaptive Athletics hosts a major wheelchair tennis tournament each year and provides opportunities for those who haven't played wheelchair tennis to try the sport. If new players express interest in competitive play, Adaptive Athletics helps them build practice regimens that match their skill level and accommodate their other commitments.  
 "If you think about your prototypical spinal-cord injury, it often happens to a male between the ages of 15 and 28," Cottingham said. "At that young age, they typically don't have a lot of education, and they often come from active, high-risk lifestyles like construction work or military service. If you ask them to go to a support group and talk about their feelings, they're going to be very hesitant. But if they have the chance to find support and resources through participation in a sport, they're going to be much more receptive."
Cottingham believes tennis is uniquely suitable for adaptive programs because able-bodied individuals and wheelchair users can practice and play together with minimal modifications. Through its relatively level playing field, tennis presents opportunities to educate the UH community on the nature of disability.  
"We are focused on teaching students about disability, helping them see it not as just a medical condition, but as someone who's a neighbor, a friend, a colleague, or a fellow student. We also carry out exceptional research that gets cited internationally. Most importantly, we provide outstanding programming that serves the disability community at large. Combining teaching, research and service is what makes us really special."