Major organizations recognize speech pathology student's cutting-edge research
Master's candidate Tonya Freeland awarded nationally competitive scholarship; invited to present poster at international conference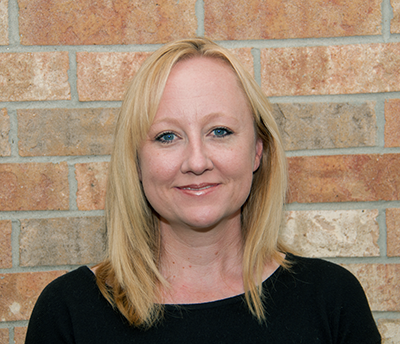 The American Speech-Language-Hearing Foundation recently awarded a 2014 Graduate Student Scholarship to Tonya Freeland, a second-year master's degree candidate in the Department of Communication Sciences and Disorders.
This prestigious scholarship is awarded annually to 20 master-level and doctoral students from across the country and Freeland is the only student in the Southwest selected for this honor last year. Each scholarship recipient was awarded $5,000.
"Tonya was an outstanding candidate for the scholarship – she has the drive, tenacity, and intelligence to be an excellent researcher in the field," says Dr. Stephanie Daniels, professor in the department of communication sciences and disorders.
Tonya Freeland is researching new ways to incorporate simulation technology as a training tool into speech pathology.
In the healthcare field, simulation incorporates high-tech mannequins that can mimic patients in distress or experiencing other health issues. Healthcare workers practice treatment techniques on the mannequins to learn the best methods of caring for human patients.
"The use of this kind of simulation technology in the field of communication disorders is very new, and there is very little published literature about it yet," says Freeland. "Other healthcare professionals commonly use this type of technology to train and I feel it is important for the field of speech-pathology to match and/or exceed the standards of other healthcare fields whenever possible. The technology is available now; we just have to learn to use it."
For her thesis, Freeland teamed with Dr. Daniels to integrate simulation into a training program housed at the Houston VA Hospital's Simulation Training Assessment and Resource Lab. They trained two groups of nurses to administer dysphagia screenings to stroke patients, which measure the degree of difficulty that people have with swallowing. The researchers used two different methods and evaluated patients' acquisition and retention of new swallowing skills.
One group of nurses received training that mimicked typical on-the-job teaching and practicing. The second group received training that included extra practice with a medical simulation mannequin programmed to produce auditory signs of dysphagia using sound clips from actual stroke patients.
Dr. Daniels says, "Tonya was vigilant in data collection as there were a lot of moving parts –including nursing schedules, simulation lab availability, and her schedule. She frequently came in during the night shift and evaluated subjects in the early morning (e.g. 2:00, 3:00 AM) if that accommodated the nurses schedule."
Freeland has completed the data collection for her thesis and now is analyzing the information. She has been invited to present her preliminary findings in February at the International Stroke Conference in Nashville.
"Without a doubt, Tonya is the best research student that I have had," Dr. Daniels said. "She has taken the lead on this project from the start, something I am not used to in master's level students. With the talent Tonya already demonstrates, she will be an excellent clinician and hopefully continue to pursue research."
Freeland enrolled in the communication disorders bachelor's degree program in fall 2010 to pursue a new career in speech pathology. She previously worked in the high-tech industry and in Pearland as a stay-at home mother and community volunteer.
"I knew I wouldn't be happy going back to my previous career and began seeking a career opportunity that would be challenging, fun, and keep me in the community helping people," she says.
She completed her undergraduate studies in May 2013 and immediately applied to the graduate program.
"UH is one of only a few universities in Texas that offers a speech-language pathology master's program," Freeland says. "The program is very competitive and offers one of the most vigorous learning experiences available. Being so close to the medical center and in a large city known for its cultural diversity, the opportunities for externship experiences made the program very attractive as well."
In addition to the scholarship, Freeland was awarded the Beck Fellowship for spring 2015, a paid fellowship that allows her to work at Sunnyside Multi-Service Health Center this semester and gain experience in a community health center setting.
Freeland has also just completed her first externship at LBJ Hospital where she worked with acute patients and outpatients.
"My favorite aspect of this experience was working with, and learning about head and neck cancer patients," says Freeland.
Freeland is on course to graduate in May 2015. She plans to work professionally to gain more clinical experience before pursuing more higher education.
"After working for a while," she says, "I plan to return to school for a Ph.D."
- By Monica Byars