Jan. 21 birthday bash for former Lt. Gov. Bill Hobby
Roast and Toast Celebration kicks off fundraising for Hobby School of Public Affairs initiative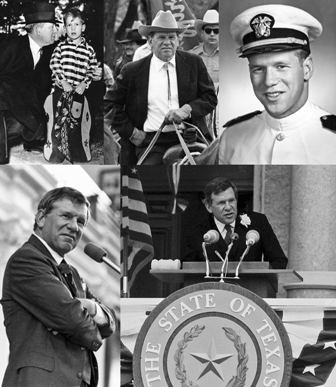 The Hobby Center for Public Policy (HCPP) has planned a birthday bash for former Texas Lt. Gov. Bill Hobby. The "Bill Hobby Birthday Roast and Toast in Celebration of His 83rd Birthday" will be held from 6:30 – 9 p.m. on Wednesday, Jan. 21 at the River Oaks Country Club. All proceeds will support the initiative for a new Hobby School of Public Affairs.
William "Bill" Hobby served as Texas' lieutenant governor for 18 years, longer than any other person elected to that position. His tenure continued a family association with the Texas Senate covering three generations and spanning more than a century.
In 2013, the UH System Board of Regents passed a resolution supporting the establishment of the UH Hobby School of Public Affairs. With research methods supported by the National Science Foundation, the school's mission will be to prepare new policy leaders, researchers and professionals with the tools to analyze data—politics, energy, health care, the economy and other areas—effectively and with intellectual honesty.
"Through an interdisciplinary approach, the Hobby School of Public Affairs will train future leaders to analyze complex data and leverage innovative technology to assist decision makers in the public and private sectors," said Jim Granato, professor and director of the HCPP.
"Gov. Hobby is well versed in public policy and the rigorous analysis of public policy issues. He also demands transparency in how data are collected," Dr. Granato said. "Reflecting Bill Hobby, graduates will offer ethical, pragmatic, reality-based solutions to evolving policy challenges."
The birthday celebration is chaired by HCPP advisory board members Beth Robertson and Lynne Bentsen. Honorary chairs and "roasters" are State Sen. Rodney Ellis, former Southwest Airlines CEO Herb Kelleher and attorney Joe Jamail.
"We are excited to honor Bill Hobby on his birthday with a memorable 'roast' from three of his longtime friends," Ms. Robertson said. "His prowess in the private sector and public arena is remarkable. Yet his leadership within higher education ─ and ultimately the Hobby School's students and research ─ will have lasting effects on the success of our state."
The UH Center for Public Policy began in 1981 as an impartial research organization within the College of Liberal Arts and Social Sciences. In 2010, it was renamed for former Lt. Gov. Bill Hobby.
To RSVP or for more information, visit http://www.uh.edu/class/hcpp/roast/Response.pdf.
- By Marisa Ramirez