Teaching Creativity: English Department building creative writing pedagogy program
New graduate seminar focuses on teaching writers to write and new undergraduate practicum refines editing skills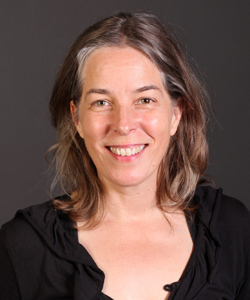 Audrey Colombe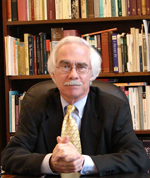 Wyman Herendeen
Creative writing programs encourage and develop the talent in people who want to write poetry and prose.
But what training is there for people who want to teach creative writing techniques to people who want to write poetry and prose?
"First off, all creative writing students want to write," says Audrey Colombe, visiting associate professor of English and creative writing "They all want to develop their craft. There are a number who never expect to teach because they have the resources to just go off to write. And then there are those who also want to teach."
The Department of English, home to the internationally acclaimed UH Creative Writing Program, is now offering graduate students some guidance on creative writing pedagogy.
"We will be one of the few programs nationally having courses to prepare students for a career teaching creative writing, and it will make our students still more attractive on the job market," says Wyman H. Herendeen, professor and chair of the English Department.
Pedagogy – the art and science of teaching – is enriched by one's philosophy about the purpose, method and style that's best for disseminating knowledge. In short, pedagogy is as personal as creative writing is.
"There are many versions of creative writing pedagogy and they all have their pros and cons," Dr. Colombe says. "Inevitably, everyone comes up with their own teaching style. It's very subjective, but it's getting less subjective as people spend more time writing down the various approaches to teaching creative writing."
The Department of English has launched two new courses – one each for graduate students and undergraduates – in support of the national trend to take some of the mystery out of creative writing teaching and coaching and literary journal editing.
The department's established program for preparing graduate students to be innovative teachers of first-year writing will be enhanced with the addition of a graduate seminar in the skills and methods of effective teaching of creative writing.
"Our outstanding Creative Writing graduate students will now have a chance to get training and practice in methods of teaching undergraduate creative writing, ensuring that when they teach their undergraduate creative writing workshops they will be trained professionals before going into the classroom," says Dr. Herendeen.


The department also started a new course for "undergraduates contemplating career paths in publishing in the arts," he says. "This course builds on the success of the English Department's award-winning undergraduate literary journal, Glass Mountain, and the emerging writers conference, Boldface, that grew out of the journal."
The class, "Student Literary Journal Practicum," provides students with hands-on practical training in the various managerial, editorial, and technical skills needed for editing a literary journal. Journal editors often serve as writing coaches to the people who submit work. The editing process can help writers refine their work or challenge them to try different approaches.
Dr. Colombe, who earned her Ph.D. in English and creative writing at UH, will conduct the creative writing pedagogy graduate seminar and serve as the Glass Mountain faculty advisor, the cornerstone of the undergraduate editing practicum.
"The creative writing classroom is supposed to be based on imagination and creative production and it's easy to derail that," Dr. Colombe says. "We try to allow students to do that imaginative work while steering them away from the common errors that can undermine the work."
One method of redirecting students that creative writing teachers often employ is introducing students to published writers whose work can expand their perspectives, showing them how to handle language, and giving them a deeper understanding of literature as an art form.
Dr. Colombe says many of the teachers she's teaching are figuring out what got them excited in the classroom and designing assignments or tasks to make those lessons accessible and skills available to their students.
The teachers-in-training are developing their processes for creating safe spaces in writing workshops for sharing and critique, deciding how they will model authenticity in the classroom, and figuring out how to encourage experimentation and dissect failure to help their students develop their own writing voices.
"There always comes a moment in a creative writing teacher's work when a student turns to you and says, 'What do you know?'" Dr. Colombe says. "And the authentic response is, 'This is relatively subjective. You're being taught what I know. I can show you this much. You can teach others what you've learned. Let's all keep learning.'"
- By Shannon Buggs