Blaffer and three other Houston museums present Mel Chin: Rematch
Campus museum to host largest component of expansive retrospective on the Houston native's work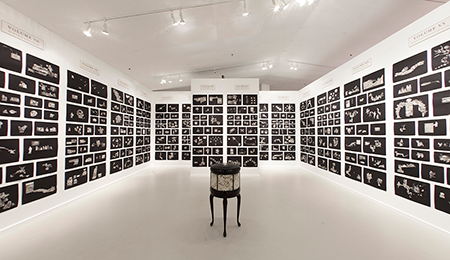 The Blaffer Art Museum has taken the lead in presenting Mel Chin: Rematch, the most expansive survey of Chin's work to date and a homecoming for one of the city's most renowned artists.
Blaffer will host the largest component of the exhibition that was organized by the New Orleans Museum of Art. In Houston, the traveling retrospective will be presented in four venues: Blaffer, the Contemporary Arts Museum Houston, Asia Society Texas Center and the Station Museum of Contemporary Art.
The launch of the show's Houston run will be a moving opening day celebration beginning with an opening reception at Blaffer on the University of Houston campus from 11 a.m. to 2 p.m. Saturday, January 17 and include events at the three other venues. Chin will present an artist talk at Blaffer at noon.
The works at Blaffer will be on display through March 21.
Working across media including sculpture, video, drawing, painting, collage, land art and performance art, the Houston-born Chin has adopted mutability as his operating premise over his four-decade career.
His works range from intimate sculptures and drawings steeped in the legacy of Dada and Surrealism to ambitious site-specific, research-driven, collaborative projects involving scientists, fellow artists and community members.
"Operating in the legacy of Marcel Duchamp, Chin allows his ideas to dictate the form of his art, yet he looks toward biological and evolutionary models as the underlying framework for his practice," writes exhibition curator Miranda Lash, curator of contemporary art at the Speed Art Museum in Louisville, Kentucky.
"Chin describes his willingness to change as a survival strategy, no different from that of a cell, or a virus, which, upon encountering danger or an obstacle, adapts in order to continue reproducing," Lash says.
The 31 works on view at Blaffer Art Museum include documentation of Chin's major science-based projects, most famously Revival Field (begun in 1990), in which he worked with agronomist Rufus Chaney on monumental "sculptures" that used phytoremediation—the use of metal-accumulating plants to absorb toxins from contaminated soil—as a reductive technique, similar to the way a sculptor carves away marble.
Chin used the term "invisible aesthetics" to describe the transformation occurring under the soil and between various collaborators and civic agencies in what became the first replicable field test of its kind.
Chin's interest in research again bore fruit in 2006 when, alarmed by the link between lead poisoning and violent crime, he devised Operation Paydirt/The Fundred Dollar Bill Project, an ongoing interdisciplinary endeavor that continues to generate thousands of children's drawings in an effort to raise awareness about lead poisoning nationwide.
Other works on view at Blaffer include In the Name of the Place: GALA Committee (1995-97), for which Chin collaborated with the broadcast TV series Melrose Place (Fox, 1992-1999) to insert socially-engaged artworks into the show's sets and props. Blaffer will also feature selections from Chin's Erased Currency (1997) and Drawn Currency (2006-08) series, key assemblages introducing recurring themes and materials in Chin's oeuvre, as well as the large-scale installation The Funk and Wag from A to Z (2012), a surrealist arrangement of collages culled from the Funk and Wagnalls encyclopedia.
The website http://rematchhouston.com will serve as an online portal to the Houston presentation's four components.
Blaffer will also present Mel Chin in conversation with journalist Tyler Green at 7 p.m. on February 19 for a live-audience taping of an episode of The Modern Art Notes Podcast, America's most popular audio program on art. It is published each Thursday at 2 p.m.  CST at manpodcast.com and is available wherever podcasts are downloaded.
Mel Chin: Rematch is organized by the New Orleans Museum of Art. Major support for the exhibition is provided by The Andy Warhol Foundation for the Visual Arts, the Creating A Living Legacy Program of the Joan Mitchell Foundation, Suzanne Deal Booth and David G. Booth, the Bertuzzi Family Foundation, Susan and Ralph Brennan, and Stephen Reily.
The presentation of Mel Chin: Rematch at Blaffer Art Museum is made possible through the generous support of The Eleanor and Frank Freed Foundation and BP Corporation North America, Inc. Additional funding comes from the Cecil Amelia Blaffer von Furstenberg Endowment for Exhibitions and Programs, the Houston Endowment Inc., and Major Exhibition Fund patrons Jim Petersen, Jr., Vitol, Inc., Anonymous, Nightingale Code Foundation and Frank and Dorene Herzog.  Additional support comes from the Anchorage Foundation, the City of Houston through the Houston Arts Alliance, the Texas Commission on the Arts, the Jo and Jim Furr Exhibition Endowment at Blaffer Art Museum, and the George and Mary Josephine Hamman Foundation.
- By Devon Britt-Darby