Two alums are National Book Critics Circle Awards finalists
Lacy M. Johnson nominated in autobiography category and Vikram Chandra in criticism
Two alums of the Creative Writing Program in the Department of English are finalists for National Book Critics Circle Awards for the 2014 publishing year.
Lacy M. Johnson (Ph.D. Creative Writing, 2008) is nominated in the autobiography category for her memoir "The Other Side."
Vikram Chandra (M.F.A. Creative Writing, 1992) is nominated in the criticism category for his book, "Geek Sublime: The Beauty of Code, the Code of Beauty."
"When you look at the other nominees, as well as those who have won these awards, the names are inspiring. They are the luminaries of our generation," Johnson said. "It's an honor to be in such great company and to be recognized in this way."
Since 1976, the National Book Critics Circle (NBCC) has honored six books published in the United States during the previous years. The awards recognize six categories of literature: autobiography/memoir, biography, criticism, fiction, nonfiction and poetry. The members of the NBCC are mostly professional book review editors and book reviewers.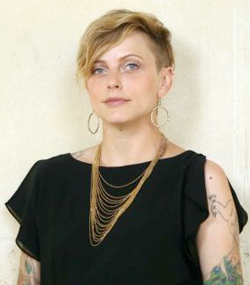 Lacy M. Johnson
"The Other Side" (published by Tin House) offers frank insight into Johnson's near fatal relationship with an abusive former boyfriend and her recovery following its traumatic and terrifying climax.
It was favorably reviewed by the Wall Street Journal, the Los Angeles Review of Books, the Texas Observer, San Francisco Chronicle and several other noteworthy publications.
The Other Side is Johnson's second book. It is also a finalist for an Edgar Award, which honors literary works focused on mystery and true crime. Johnson's book is among the nominees for best fact crime.
Her first work, Trespasses: A Memoir, was published in 2012 by University of Iowa Press. She teaches Interdisciplinary Art at UH as the director of academic initiatives for the Cynthia Woods Mitchell Center for the Arts.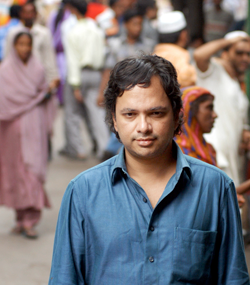 Vikram Chandra
Novelist Chandra's Geek Sublime (published Graywolf Press) examines the connections and tensions between technology and art and delves into his personal story of combining his passions for literature and computer programming.
It received notable praise from the New York Times Sunday Book Review, The (United Kingdom) Guardian, New Republic and The Economist magazines, and several others.
Chandra's first novel, Red Earth and Pouring Rain, was his UH thesis. It was awarded two British first book prizes – the David Higham Prize for Fiction in 1995 and the Commonwealth Writers in 1996.
He is also the author of Love and Longing in Bombay, a collection of short stories published in 1997, and Sacred Games, a novel published in 2008. Chandra teaches creative writing at the University of California, Berkeley.
The NBCC awards will be presented on March 12, 2015 at the New School in New York City, in a ceremony that is free and open to the public. This year's ceremony will include a tribute to novelist Toni Morrison who is receiving the NBCC's Ivan Sandrof Lifetime Achievement Award.
Also among this year's awards nominees is former Creative Writing Program faculty member Claudia Rankine, who was one of Johnson's professors and mentors while she working on her doctorate.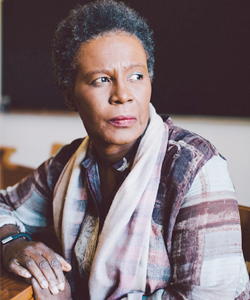 Claudia Rankine (New York Times)
Rankine made NBCC history this year as the first person to ever have one book nominated in two categories. Her Citizen: An American Lyric (published by Graywolf Press) is a nominee in both poetry and criticism.
"Claudia Rankine's Citizen is a book of prose poetry whose inventive composition and topical content invite readers to consider different avenues toward the urgent conversation about race and politics in America," wrote Rigoberto Gonzalez, Chair of the Poetry committee, in the news release about the nominees. "Rankine's appearance on two separate categories is a testament to her book's complexity, narrative reach and artistry."
Johnson said she is particularly happy to be named a finalist this year with her one-time mentor Rankine.
"The faculty at UH mentored me in what it means to be a writer and what it means to engage the world," Johnson said. "Their guidance set me on a path to get me to where I am now."
- By Mike Emery and Shannon Buggs