Moores School of Music halfway to its piano fundraising goal
School receives second delivery of Steinways and continues raising money for the pianos' upkeep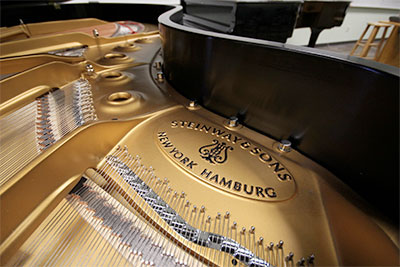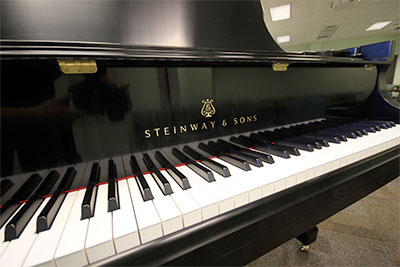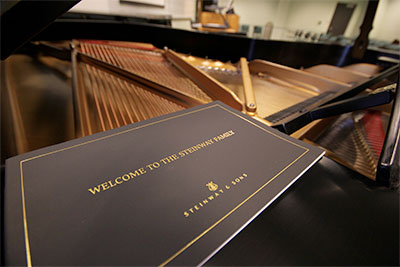 Photos by Sammy Butts
The name Steinway is synonymous with the piano. The 160-year-old company builds its pianos one at a time, each instrument taking over a year to create. That commitment to customization and craftsmanship allowed Steinway to set industry standards for piano design and construction.
On October 25, the Moores School of Music welcomed the second delivery of these top-quality pianos in its long term conversion to an all-Steinway music school.
Thanks to the generosity of an anonymous alum, a $5 million, multiyear gift will be used to purchase the school more than 170 Steinway pianos – the largest single piano order that Steinway has ever filled.
"So far we've purchased 20 Steinways out of the total 170 needed to make the Moores School of Music an all-Steinway school," said Dr. Andrew Davis, Director of the Moores School of Music. "That purchase has amounted to just under $2 million dollars."
The piano conversion will give Moores one of the largest inventories of New-York-made Steinways in the world. All music students will have access to Steinway pianos in every practice room, every faculty teaching studio, and on every Moores performance stage.
Regardless of the musical instrument students play, all of Moores' nearly 600 undergraduate and graduate students are required to learn to play the piano or improve their piano skills. All of them must work with a piano on a near-daily basis, as part of their private study on their own instruments—much of which requires that they play with piano accompaniment.
The breadth and depth of the Steinway inventory on campus will be an asset in Moores' recruitment of top students, as well as scholar-artists to the faculty and guest performers to its concert schedule.
Of the 20 Steinways purchased thus far, four are 9-foot Steinway concert grand pianos and 16 are 7-foot Steinway Model B pianos. The instruments are being delivered in phases. The first eight were delivered about a year ago.
The donor has challenged Moores to raise an additional $1 million to create an endowed fund, income from which will be used to maintain the pianos in perpetuity. On October 30 at the Moores Society fall luncheon, Dr. Davis announced that the school is halfway to achieving its Steinway fundraising goal.
One of the new Steinways was showcased during the Oct. 17 UH football game. During halftime, Timothy Hester, Professor of Piano, played George Gershwin's "Rhapsody in Blue" on a "Cougar red" piano, backed by the Spirit of Houston Cougar Marching Band.
With proper upkeep, each Steinway should last over a century, making these world-class pianos available for future generations of Moores Music students.
- By Monica Byars